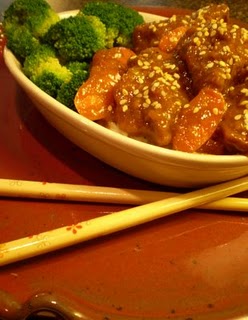 Yield: 4 servings
This dish is so rich and flavorful, it is difficult to believe that it is actually good for you. (If you fry the chicken, it is a little more decadent, but worth it to me.) Made from fresh oranges, the sauce cooks down to a thick pulpy melange with a complex balance of tastes: sweet, sour, salty and savory. Serve the chicken and sauce over brown or white rice (I like Jasmine) with a side of steamed broccoli for a dinner that is as nutritious and colorful as it is delicious. If you opt not to serve it with broccoli, you might want to garnish it with an additional sliced green onion for color contrast.
Chicken Mock Stock
2 cups water
¼ cup nutritional yeast
2 tablespoons tamari
1 teaspoon onion powder
1 teaspoon dried sage
½ teaspoon dried thyme
½ teaspoon salt
¼ teaspoon celery seed
Combine all of the ingredients in a large saucepan and set aside while you make the boneless "chicken" pieces.
Basic Seitan or "Wheat Meat"
1 cup instant vital wheat gluten flour
1 cup water
In a medium bowl, stir together wheat gluten and water until completely combined. Knead for about 3 minutes (many recipes say 5 minutes, but I think the extra minutes toughen the product). Shape the seitan into two short baguette-shapes about 5 inches long and then cut or tear each one into about 16 nice bite-size pieces. Bring stock to a boil. Stretch each piece a little before placing it carefully into stock. Reduce heat to a very slow simmer and cover pot with lid. Let simmer for 50-60 minutes, stirring every 10 minutes (or whenever you think of it), until broth has almost completely reduced. If it doesn't, no worries. (Pieces will expand, but shrink back down.) Use immediately or store in the refrigerator (for up to 6 days) or the freezer (for up to 6 months). While the seitan simmers, make the Orange-Sesame sauce.
Source: La Dolce Vegan by Sarah Kramer
When the seitan has finished simmering, you may remove from the pot and toss with the sauce as is. However, for a chewier texture, fry the chicken first according to these directions:
Chinese Fried Chicken
Canola oil
1/2 cup unsweetened soy milk
1 tablespoon cornstarch
Pinch of salt
In a large iron skillet over medium-high, heat 1/4 inch of canola oil. Meanwhile, whisk together remaining ingredients in a small bowl. When oil is hot, but not smoking, dip each piece of chicken into the batter and place it carefully into the hot oil. To avoid overcrowding, you may need to cook the chicken in two batches. Cook each piece on both sides for a couple of minutes or until golden and drain on paper towel before tossing with the sauce.
Orange-Sesame Sauce
2 very large navel oranges, skin removed and flesh separated into sections
1 1/2″ piece ginger, peel removed, and cut into about 4-6 pieces
2 tablespoons mild molasses (not blackstrap, as the flavor is too strong)
2 tablespoons rice wine vinegar
2 tablespoons brown sugar
1/8 teaspoon garlic powder
1/8 teaspoon onion powder
1/8 teaspoon five spice powder
tiny pinch of cayenne pepper
salt to taste
1 tablespoon cornstarch
1 tablespoon sesame oil
3-4 green onions, rinsed, trimmed and thinly sliced
2 large garlic cloves, minced (I use a garlic press)
3/4 cup carrots, very thinly sliced on the diagonal
zest of half of a large lemon
Garnish: approximately 4 teaspoons of sesame seeds
In the bowl of a food processor fitted with a metal blade, place first 11 ingredients and process until smooth, but pulpy. Meanwhile, in a skillet over medium-high, heat sesame oil. Add green onions and garlic and stir fry quickly until softened, but not brown. Scrape orange sauce into skillet, add carrots, and cook until sauce reduces slightly and carrots are just tender. Stir in fried seitan and lemon zest and serve over rice. If desired, sprinkl with about 1 teaspoon of sesame seeds per serving.