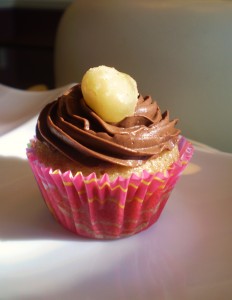 These beauties were  baked from a recipe in Isa Moskowitz and Terry Romero's Vegan Cupcakes Take Over the World.  And they are out-of-this-world, or so my AP Studio students, the lucky recipients, thought!
I simply baked the batter from their Banana Split Cupcakes recipe (p. 81) in decorative paper-lined mini-muffin tins without the addition of the pineapple preserves or chopped dark chocolate.   Then I frosted them with their recipe for Chocolate Banana Mousse (p. 157) and topped them with a half macadamia nut–they're too expensive to use whole!
I omitted the  soymilk from the frosting recipe, as I wanted it quite thick, and only used 10, instead of 12, ounces of chocolate (10 ounces is what came in my bag), and it was perfect.  The recipe is almost identical to my go-to mousse from another source that uses a liqueur in place of the soymilk, so either way would work great.   And both are equally as delicious whether enjoyed as frosting, a mousse, or a pie filling!
The frosting recipe is essentially a package of extra-firm silken tofu processed until smooth with melted chocolate, a couple of more tablespoons of the sweetener of your choice, a little bit of vanilla, and a banana, chilled for about an hour before piping.
I recommend buying this cookbook–a staple in my kitchen (right along with The Blooming Platter that is!)–so that you can enjoy this and lots of other recipes for both traditional and contemporary cupcakes.  Think "Cupcake Wars," vegan style.