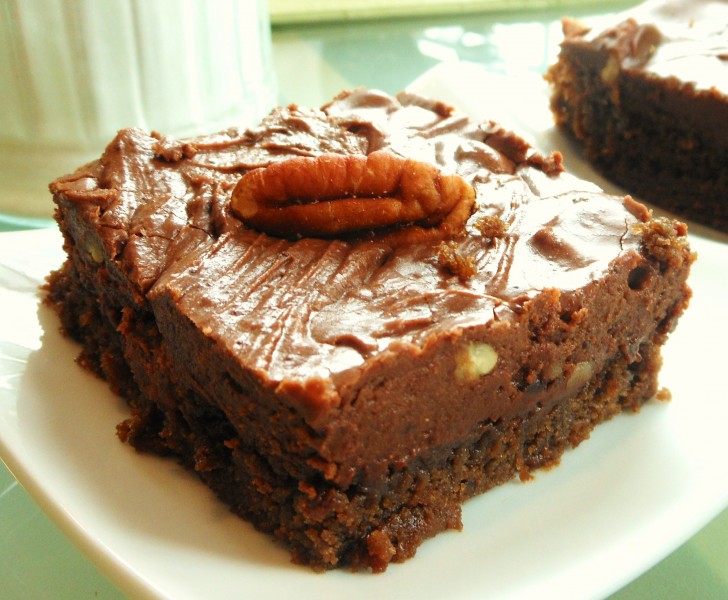 Yield: 1-8 inch square sheet cake (a 9 inch pan will make a cake that is too thin)
To make a 9 x 13 inch cake, double recipe and add a few minutes onto cooking time if necessary; avoid overbaking.)
I was introduced to the original version (vegetarian) of this cake at an Oscar's party when I lived in Nashville.  It is a winner for sure, to be enjoyed in moderation for the occasional splurge…of course. 🙂
My first attempt at veganizing the recipe was quite tasty.  But the new and improved version is even more so: moister and fudgier.
When this year's Oscar's rolled around, I found myself craving this old-school favorite.  Remembering that I had decided my recipe could use a good tweak, I looked up photos of the non-vegan original online and compared them to the photo of my first iteration.  Yep, just based on appearance alone, I knew I needed to do better…and I did.  I'm pretty sure this one can't be improved upon!
Note: while you are welcome to use Coca-Cola or your favorite brand of traditional root beer, you might enjoy one of the natural brands.
Ingredients
Cake:
1 cup natural sugar
1 cup unbleached all-purpose flour (I like white whole wheat)
3 tablespoons cocoa powder
1 1/2 teaspoons baking powder
1/4 cup dairy-free margarine (such as Earth Balance)
1/4 cup vegetable oil or grapeseed oil
1/2 cup Coca-Cola, root beer (not diet) or a natural cola/root beer brand
1/4 cup + 2 tablespoons dairy-free buttermilk (5 tablespoons + 2 teaspoons non-dairy milk, e.g. So Delicious Dairy Free Original Coconut Milk Beverage + 1 teaspoon apple cider vinegar whisked together to curdle)
1/2 teaspoon baking soda
1/2 teaspoon vanilla extract
Frosting:
2 1/2 cups confectioner's sugar (plus extra, if needed, to yield the consistency you desire, but more sugar makes it lighter in color and less fudgey)
1/4 cup dairy-free margarine
3 tablespoons cocoa powder
3 tablespoons Coca-Cola, root beer (not diet) or a natural cola/root beer brand
1/2 teaspoon vanilla extract
1/2 cup coarsely chopped toasted pecans + more for garnish, optional (omit for nut-free)
Instructions
For the Cake:
Preheat oven to 350ºF and grease and lightly flour an 8 x 8-inch baking pan.
In a bowl, combine the sugar, flour, cocoa powder and baking powder.
In a 1-quart saucepan, combine the margarine and oil. Bring just to a boil and pour over dry ingredients.
Add the cola to the batter, and whisk well to combine.
Dissolve the baking soda in the vegan buttermilk and add it to the batter along with the vanilla extract. Whisk just until combined. The batter will seem a bit thin.
Pour the batter into your prepared ban and bake 25 minutes or until a wooden pick inserted in the center of the cake comes out clean; avoid overbaking.
Remove from the oven to a wire rack and frost immediately.
For the Frosting:
While the cake bakes, place the confectioner's sugar in a medium bowl.
In a 2-quart saucepan, combine the dairy-free margarine, cocoa powder and Coca-Cola; bring just to a boil.
Pour the liquid over the sugar, and whisk to combine until smooth.  Whisk in more confectioner's sugar if necessary.
Add the vanilla extract and pecans (if using), and stir to distribute.
Spread frosting over warm cake. Garnish with pecans if desired.  When cool, cut into squares and serve.  Store, covered, in refrigerator.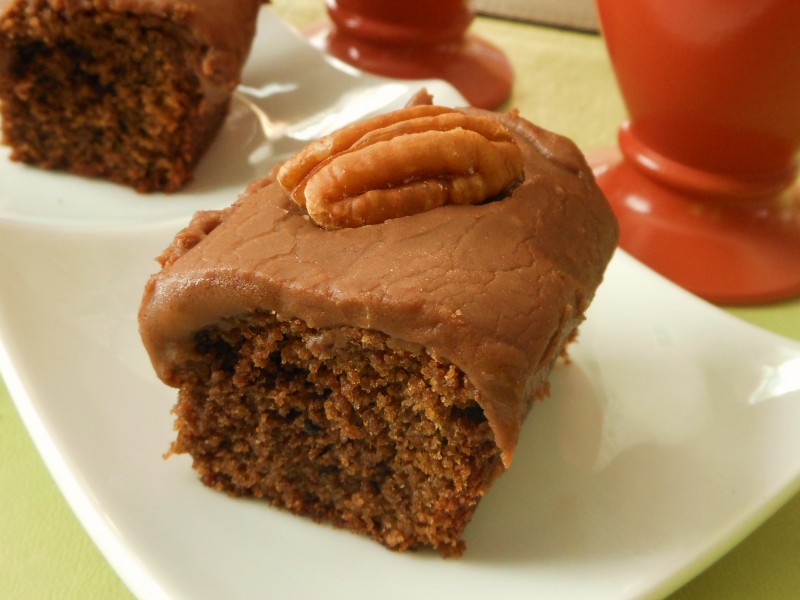 This is the previous version…see the difference?!