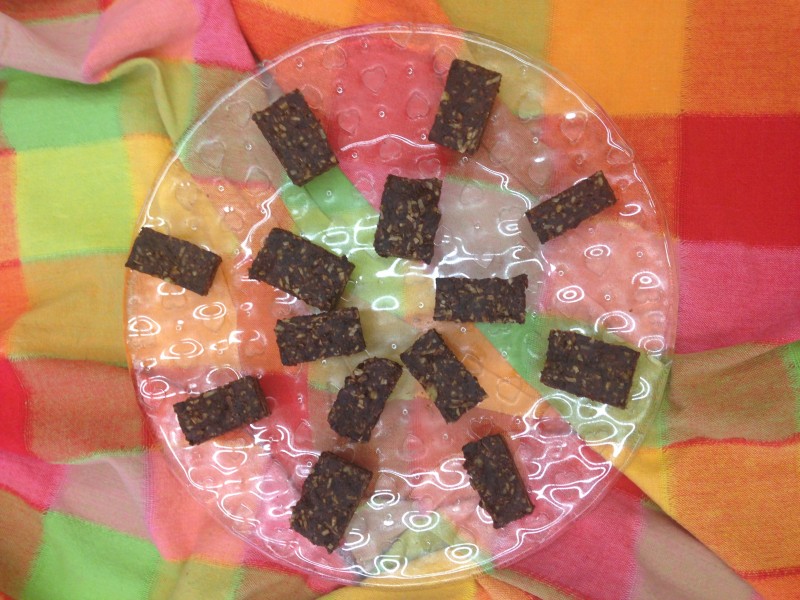 Yield: 24 squares (they are rich and dense, so I cut them smaller than usual)
If you are in need of a healthy bite for graduation parties, these are your ticket!  They are non-vegan male teenager approved (and meatatarian husbands love them too)!
These bars were inspired by my inimitable yoga instructor, Angela Phillips', scrumptious "La La Bars."  (Her nickname is La La.)  I call mine Ya Ya Bars after the Ya Ya Sisterhood.
But "brothers" love them too, as noted above.  Having taken the bars to enjoy as soon as my AP Art students got their portfolios assembled on May 9, I suddenly remembered that I didn't have any pictures of them, so Bryanna snapped this photo before they were all devoured.
When Angela gifted me with the bars, I didn't ask for the recipe.  So, since I love a culinary challenge, so I just made mine up as I went along.
She uses dates in hers, but my grocery store was out.  So, I substituted pitted dried plums, as I have had great success with my Vegan Plum Delicious Double Chocolate Walnut Cookies and my Vegan Chocolate-Plum Butter Mousse.  Who knew those two flavors were so compatible?  While I have not tried my recipe with dates, feel free to give it a whirl.  My assumption is that they will taste more pecan pie-like and slightly less fruity than my dried plum variety.  Very good, just different.
However you decide to make them, you are sure to love them as much as everyone else.  And thank you, Angela, for the inspiration!
1 cup nuts (I used a combination of walnuts and pecans)
2 cups unsweetened flaked coconut
18 ounces pitted dried plums (make sure they are very moist in a sealed cardboard canister or bag)
9 to 10 ounces vegan chocolate chips, melted
Pinch sea salt
Line an 8- or 9-inch square pan with foil.  In a food processor, finely chop nuts and coconut and transfer to a medium size bowl.  Add plums to processor and pulse until finely chopped.  They will tend to mash together but avoid making a puree.  Transfer to bowl with nuts and coconut.   Using fingers, combine well without compacting.  Pour melted chocolate over the mixture along with a healthy pinch of sea salt, and continue to combine with your fingers until all ingredients are completely incorporated.  Press evenly into prepared pan, cover, and refrigerate several hours or until cold.  Cut into squares and serve.  If you prefer, invert them onto a cutting board, remove foil, and then cut.