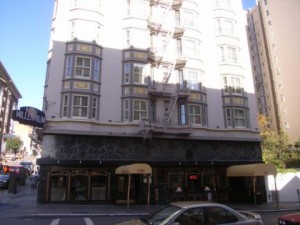 The Millennium Restaurant in San Francisco was the first vegan restaurant in which I ever dined.  It was many years ago while at an art conference with my good friend, Anne Wolcott, who had heard about it.  (If you live in San Fran or ever visit the area, do yourself a favor, and put this restaurant on the top of your list!)
I thought my initial experience was spectacular and I would hazard a guess that many, if not most, of this gourmet restaurant's patrons are not necessarily vegetarian or vegan, just lovers of delicious, beautiful and creative food.  I was so enchanted by it that I purchased one of their cookbooks and it has remains a source of inpiration.
So, when my dear San Francisco friend, Yvette Hetrick, suggested a private West Coast book-signing dinner for The Blooming Platter Cookbook in combination with a trip to the West Coast to celebrate one of my "milestone" birthdays, the Millennium leaped immediately to mind.  Planning the party for 30 in the restaurant's private "Millennium Wine Room" with the help of general manager, Alison Bagby, was a delight.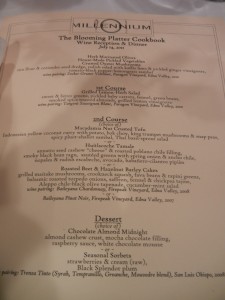 Now in a new location on Geary Street, but still connected to a hotel, the food and atmosphere are as appealing as ever.  For a very affordable price of $50 per person, not including wine (more on this soon!), the chef offered three appetizers (including corn flour-dusted fried oyster mushrooms to die for–reminiscent of fried calamari–and everyone's favorite); a delightfully fresh salad with a lemony dressing; 3 different entrees with beautiful sides and sauces (an Asian crusted tofu, a tamale, and a beet-and-barely cake); and either sorbet or my choice: Chocolate Almond Midnight, the restaurant's signature dessert.
One of the guests, who were almost entirely meat-eaters (but very generous in their embrace of The Blooming Platter), said after tasting the Chocolate Almond Midnight, "I would become vegan for the desserts alone!"