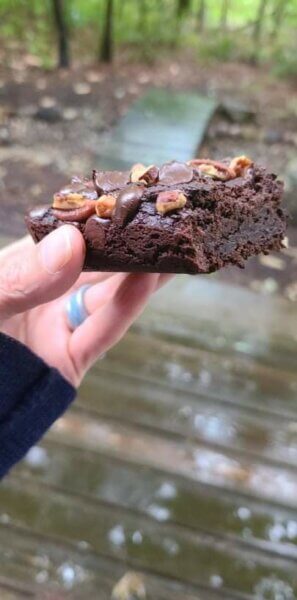 Recipes for these abound, but I like mine best, she says modestly…perhaps it is the brandy!
The absolute strangest thing happened with this recipe. I created it, proudly posted photos and the recipe, and a friend made it and had drastically different results: way too soft and fudgy, even after refrigetation, if there is such a thing, haha.
So I made the recipe again myself and had the same results. Not satisfactory at all. I can't imagine what I did and I will never know. But, I went back to the drawing board, adding 1/2 cup oatflour–but you could add any flour–2 tablespoons less water, though you might need to add it back in depending on how absorbent your flour is, and 1/2 teaspoon baking powder. I turned up the temperature to 350 instead of 325 and I cooked them for 33 minutes vs. 25.
The result is exactly what you see in the new photos and I can't imagine a brownie as good with no refrigeration necessary…brownies should not be cold! I was devastated when this happened, but now I'm so glad it did because these are superior to the others and, frankly, to any brownies I have ever made or tasted!
1-15 ounce can black beans, drained and rinsed well
1/2 cup oatflour or your favorite flour, including all purpose if gluten is no problem
2 tablespoons flaxseed meal whisked with 1/4 cup water and set aside for 5 minutes to thicken; whisk again before using
1/4 cup vegetable oil
1 tablespoon pure vanilla extract
1 tablespoons strong brewed coffee (can use decaf)
2 tablespoons brandy (or rum)
3/4 cup unsweetened cocoa powder (not Dutched)
1/2 teaspoon baking powder
1/2 teaspoon baking soda
1/4 teaspoon kosher salt
3/4 cup packed brown sugar
1/2 cup vegan chocolate chips, divided
1/2 cup pecan pieces, divided (optional, but recommended)
Preheat oven to 350°F. Spray an 8-inch square baking pan with non-stick spray, line bottom and up two sides with parchment paper, and spray again.
In a food processor, place all ingredients except chocolate chips and pecans. Process until very smooth, scraping down sides of bowl as necessary. If consistency is more cookie dough than thick brownie batter, you can add 1 to 2 tablespoons additional water. Remove blade and gently stir in 1/4 cup chocolate chips and 1/4 cup pecan pieces. (In the photo, I just used 1/4 cup pecans on top for prettier slicing.)
Spread mixture evenly into prepared baking pan. Sprinkle tmremaining chocolate chips and pecans evenly over surface.
Place brownies in center of preheated oven and bake about 33 minutes until a wooden pick inserted in center comes out with just the slightest bit of moist chocolate coloring it (not really clinging to it). Cool pan on a wire rack. Serve or cover tightly until serving time.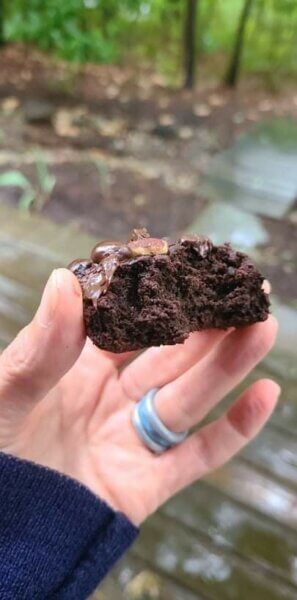 #vegan #veganrecipes #veganfoodshare #veganfoodporn #plantbased #plantbasedrecipes #plantbasedfoodshare #plantbasedfoodporn #vegansofinstagram #vegansoffacebook #vegansofvirginia #blackbeanbrownies #veganbrownies #plantbasedbrownies