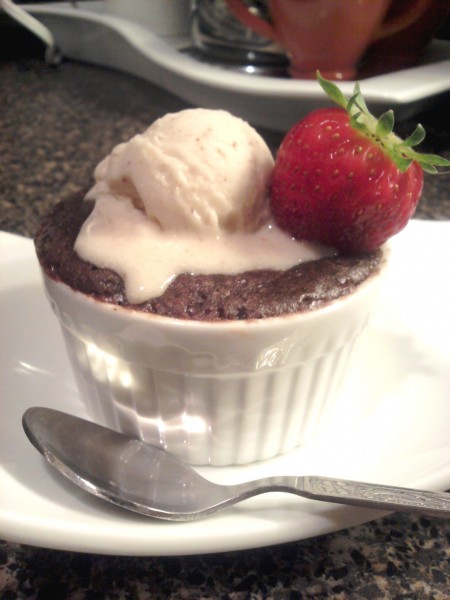 Yield: 1 serving
Okay, don't even try to convince me that every once in a while you aren't dying for a tiny taste of something sinful, and wish you could make a miniature little confection that is quick, easy, and not a killer in the calorie department.
Well, now you can!
NPR was where I first heard about these microwaved brownies-in-a-mug, so I certainly didn't invent them.  But I do think I have perfected a recipe that needed a little somethin'-somethin'.  I heard the program weeks ago, but I was having a powerful craving last night, so I did a little internet research and gave it a whirl.
I inadvertently overcooked my brownie a little–it keeps cooking for a bit even after you remove it from the microwave–so go easy.  But, even so, I wasn't 100% sold, despite the fact that the recipe I tried had something like 5,000 "likes."
I sent the recipe to my sister, Ginny, and she made one for our brownie-loving Papa, but he thought it was a little too rich in the chocolate department.  So, back to my kitchen I went this evening, this time armed with some ideas for how to improve the brownie's taste and texture, along with some So Delicious Almond Milk Ice Cream (vegan) and a fresh strawberry to perch on top.
YUM!  A winner!  All I needed was a name.  My dear friend Sonya Harmon calls our "little" Great Dane (she's smaller than her mate, Huff!) "Minnikins," and I think that is the cutest name for our little gal.  So, since these "mini" brownies are almost as cute, I thought they should be called "Brownikins."  Thank you, Sonya-kins!
Whatever you call them, you will love them!
And, by the way, you can certainly bake them in a mug as intended, but this recipe doesn't begin to fill the mug, and I don't like the brownie batter smeared on the sides after whisking the ingredients together.  So, I whisk it up in a small cup and then transfer into a mini-ramekin (about 1/3 cup) for the cutest presentation ever with a melon ball size scoop of ice cream and baby strawberry.  What's one more mug to wash?
1 tablespoon canola oil or vegan butter melted
2 tablespoons water
1/4 teaspoon vanilla
2 tablespoons unbleached all-purpose flour (I use white whole wheat)
2 tablespoons natural sugar
2 teaspoons cocoa powder (not Dutch processed)
1/8 teaspoon baking powder
1/8 teaspoon or less sea salt (I love that little crunch of salt with the sugar.  You won't need much if you use salted vegan butter, but don't omit, as it is needed for flavor.)
Accompaniments: vegan ice cream, a fresh strawberry, plus optional vegan chocolate sauce and vegan whipped topping
In a small cup (microwave safe if you plan to cook the brownie in the cup), whisk together melted butter or oil, water, and vanilla.  Then whisk in all remaining dry ingredients.  Whisk until smooth.  If desired, transfer to a ceramic mini-ramekin and cook in a microwave oven on full power for 45 seconds or until a toothpick inserted in the center comes out clean or ever-so-slightly moist.  Let sit for a couple of minutes before garnishing and serving.
Photo Note:  Sorry about the quality of the photo.  I was so excited with my creation, that I just snapped it with my phone sitting on the kitchen counter at 8 p.m.: no waiting for optimum lighting conditions!