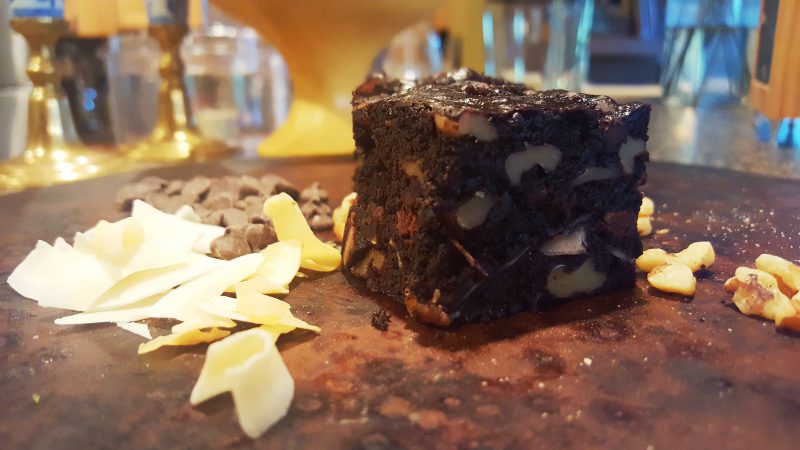 After spending most of my vegan life trying to perfect a recipe for chewy, fudgy vegan brownies, along came Bob.  His preference is for cakey.
My tasty solution was to meet somewhere in the middle.  I have removed my other "best" brownie recipe because this one tops it by alot.  For the easy recipe, scroll to the bottom of this post.  For the backstory, keep reading.
I am so ashamed that I have seemingly ignored The Blooming Platter since August 12.  This is becoming the same-old-asking-for-forgiveness song.
However, you have been on my mind.  My latest excuse is a good one; I hope you'll agree.  First, there was my art exhibiton, "Losses and Linkages" at the World Trade Center in Norfolk, VA, on which I had worked for a year.  It broke all records, I was told, opening with 250-300 people in attendance. What a beautiful, humbling, once-in-a-lifetime, life-changing experience.
Second, though, you may recall that I had plunged into Match.com in July, a year after my husband's passing, and the results were, well, we'll just say "mixed."  Indeed I met some very nice, handsome, interesting men–including some I knew or knew of outside of Match, but didn't know were "available"–yet I experienced none of that magical chemistry.  Eclipsing all else, including what we'll just call one "bridge" relationship, is the rejection dished out on both sides…wow.  Of course, I only remember what was served up to me, including ghosting which, I'm here to tell you, is a "thing."
To make a very long story short–which I may decide to share at some point–I "found" Bob the Sunday night after my show opened (September 16) during a window of a few hours when he lost his mind and thought he might be ready for Match.  By Monday morning, he had realized that he wasn't ready to date and had "hidden" his profile.  But he had responded to me, so we could still email each other through the site.  I had nothing to lose, so I asked if he had removed his profile because I had reached out.  He quickly responded that, no, it was not me, it was him, and–after I shared my frustration with men who verbalized their belief that I wasn't "ready to date"–offered his real name and his cell phone number in case I wanted his male perspective on online dating.  I did send him a follow-up text which read something like, "Thank you for your kind offer, but I won't be reaching out to you because you have made your position very clear."  However, after school, I checked my phone, and there was another message from him.  Several days of intense texting ensued with my thinking all the while that we were just going to be texting "friends," yet realizing I wanted to meet this man.
Within a week, we had decided that, indeed, we should meet, first schedulinlg a date for the next Sunday and then, because we couldn't wait, later that Saturday after my evening plans with a girl friend.  After three dates in two days–including to The Chrysler Museum for an artist's talk and an interview I needed to conduct (Bob busied himself elsewhere)–the rest is, as they say, history. We have been together every day since.  I'll leave it at that, but suffice it to say that we are in a deeply committed, loving, and fun–if fast forming–relationship.  Learning how better to love this amazing man is one of the great joys of my new life.  But it hasn't left a lot of time for my beloved blog.
Much of my time has been spent trying to figure out how to feed vegan foods to this carnivore that he will actually like.  He could never be accused of eating the healthiest diet, so I started with daily vitamins.  But I also bake weekly treats.  Here, I offer "Bob's Brownies."  Even if they weren't baked with a huge helping of love, as mine are–and yours too–they would be delicious.  Enjoy!
1 cup all-purpose flour (I use white whole wheat for everytihng)
I cup granulated sugar (I use demerera)
1/2 cup unsweetened cocoa powder (I love Hershey's dark chocolate variety; but use any unsweetened cocoa powder)
1 teaspoon baking powder
1/2 teaspoon salt
1/2 cup vegetable oil (I use canola, but any with a neutral flavor is perfect)
1/2 cup applesauce
1/4 cup non-dairy milk (I use unsweetened soy)
1 nteaspoon pure vanilla extract
1/4 teaspoon almond extract
1 1/2 cup coarsely chopped walnuts (or your favorite nut; my favorite "nut" loves walnuts)
1/2 cup vegan semi-sweet or dark chocolate chips (optional)
1/2 cup coconut chips or shredded coconut (optional)
Preheat oven to 350 degrees.  *Grease an 8-inch baking pan with non-stick spray and, if desired, line with an approximately 4-inch wide strip of parchment paper, and spray again. In a large bowl, combine the flour, sugar, cocoa powder, baking powder, and salt.  Make a well in the center and add the oil, applesauce, non-dairy milk, and extracts.  Stir or whisk to combine, about 50 strokes.  Fold in nuts and optional chocolate chips and coconut chips or shreds. Transfer the batter into the prepared baking pan, gently smoothing the top, and bake approximately 37-40 minutes or until the center is set and a toothpick inserted in the center comes out clean.  Allow the brownies to cool for 30 minutes before slicing and serving.
*Note: parchment is optional; you will have no trouble removing thee from the pan whether you use it or not.