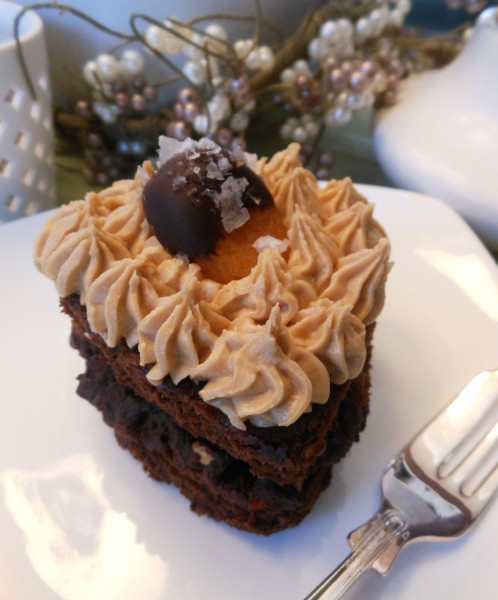 Yield: a Baker's Half Dozen (7) Mini-Heart Cakes
I'm not sure how or why I dreamed up these particular concoctions of rich chocolate, espresso, hazelnuts and dried apricots, but I'm so glad I did!  I went through a number of iterations in my mind, but these are what emerged.  As delicious as they are exquisite, they are also stupid-easy.  They just looks ultra-special.
As a dress rehearsal for Valentine's Day, I created the recipe and whipped up a trial batch for Principals' Appreciation Week a couple of weeks ago, giving the 7th one to my Pilates/Barre instructor.  An A+!
Though these mini-cakes would be beautiful for a dinner party (and certainly don't have to be heart-shaped), for my presentation needs, I simply packaged them in patterned cardboard boxes with clear peek-a-boo lids from the craft store, placing each one on an opened-out cupcake liner before carefully setting it inside the box.  To transport them, I just lined up the boxes on a jelly roll pan.  The generous size and low sides of the pan were perfect for moving them from home to school.
Wherever you serve yours, they are sure to be loved!
Chocolate Heart Cakes
1 cup soymilk (or your favorite non-dairy milk)
1 tablespoon apple cider vinegar
1/2 cup vegan butter
1 1/2 cups demerara sugar (or any granulated sugar)
3/4 cup cocoa powder
1 teaspoon baking powder
1/2 teaspoon baking soda
1/4 teaspoon salt
1 1/2 cups all-purpose flour (I use white whole wheat for virtually everything)
Preheat oven to 325 degrees.  Spray a 10 x 15″ sheet pan with nonstick cooking spray.  Line with parchment paper, pressing into corners and edges, and spray again.  In a small bowl, whisk vinegar into soymilk and set aside to curdle, whisking again before using.  In the bowl of an electric mixer, cream butter.  Add sugar and continue creaming for about 3 minutes.  (When using a natural sugar like demerara, it will not fully dissolve, so expect some pleasant grittiness, but will melt during cooking.)  Beat in cocoa powder, baking powder, baking soda and salt.  Then, with mixer on low, beat in flour in three batches, alternating with soymilk mixture.  Beat only enough to combine ingredients, scraping down sides of bowl as necessary.  Transfer batter into prepared pan, distributing batter into corners and gently smoothing the top.  Bake for 18-20 minute or until top of cake springs back when lightly pressed and a wooden pick inserted in the center comes out clean.  Cool completely on a metal rack.  Then cut out 14 heart shapes using a 2 1/2-inch cookie cutter.  Mash cake scraps together to make cake balls (dip in chocolate and serve with vegan ice cream) or reserve them in a zip-lock bag or other airtight container in freezer to make crumbs for another use.
Hazelnut-Dried Apricot Ganache Filling
1 cup vegan chocolate chips (I like a darker chocolate, but use your preference)
1 tablespoon vegan butter
1/4 cup vegan sour cream
7 dried apricots, finely chopped (be sure they are moist and plump)
3/4 cup chopped toasted hazelnuts (I toast them over medium-high in a dry skillet for about 4 minutes, until fragrant; watch closely as they will burn quickly)
Melt chocolate, dip apricots for garnish (see below), and then whisk in sour cream, dried finely chopped apricots, and toasted hazelnuts.
Espresso Cream Cheese Frosting
1/4 cup vegan butter
1/4 cup vegan cream cheese
1/2 teaspoon vanilla extract
1/4 teaspoon almond extract
1 tablespoon espresso powder (or instant coffee, ground to a powder in a spice grinder)
3 1/2-3 3/4 cups powdered sugar (adjust to create desired consistency)
In the bowl of an electric mixer, beat butter and cream cheese until smooth.  Beat in extracts and espresso powder, followed by powdered sugar in half-cup increments.  Be sure to start the mixer on low and gradually increase it so that you aren't dusted with powdered sugar!
Chocolate Dipped Apricots with Sea Salt
7 dried apricots (moist and plump ones, but not too large)
Melted vegan chocolate (from filling recipe)
Maldon or other large flaky sea salt
Before adding sour cream to melted chocolate, dip each apricot, halfway up and set on a plate covered with parchment or waxed paper to dry.  After chocolate is cool, but not completely set, sprinkle liberally with Maldon sea salt.  Refrigerate until needed.