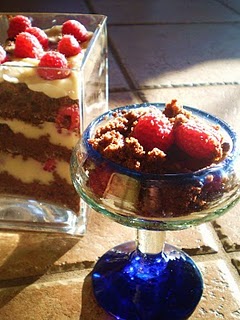 Yield: 6-8 servings (easily doubles)
My friend Susan Kaplan made a lovely Vegan Chocolate Bundt Cake for me as a holiday gift. I froze it to serve when she and her husband could come for dinner, which was this past Saturday. Joe and I each enjoyed another piece on Sunday, but there was still half of a cake left. So, because several days had passed and it was beginning to get dry, tonight I decided to transform it into a reasonably healthy trifle, eschewing peppermint for raspberries and Soy Whip for a not-too-sweet soy milk pudding. I think you'll agree that my decision was a sound one.
1/2 recipe Vegan Chocolate Bundt Cake, cut into thirds (recipe follows)
*approximately 3 tablespoons raspberry liqueur (or one that would taste good with raspberries)
Vegan Vanilla Pudding (recipe follows), chilled
1 pint raspberries, rinsed and drained (about 36)
One day before serving, crumble 1/3 of cake into the bottom of a small clear glass trifle or other dish (I used a 5-inch square floral container but you may alternatively use individual wine or martini glasses). Sprinkle evenly with 1 tablespoon of liqueur, spread with 1/3 of pudding all the way to edges, and top with approximately 12 raspberries. Repeat layers two more times. Cover with plastic wrap and chill over night.
*Note: if you don't have liqueur on hand or don't consume alcohol, substitute room temperature strong coffee.

Vegan Chocolate Bundt Cake:
1 3/4 cups freshly brewed coffee
2/3 cup unsweetened Dutch-processed cocoa powder
1 1/2 cups granulates sugar
1/3 cup canola oil
1/3 cup applesauce
1/4 cup cornstarch
2 teaspoons vanilla extract
1 teaspoon almond extract
2 cups whole wheat pastry flour or all-purpose flour
1 teaspoon baking soda
1 1/2 teaspoons baking powder
1/2 teaspoon salt
2 teaspoons confectioners' sugar
Preheat over to 325 degrees. Lightly grease an 8- or 10-inch bundt pan. Heat the coffee in a saucepan over medium heat until it comes to a simmer. Turn heat down and whisk in the cocoa powder until it has dissolved. Remove the saucepan from the heat and set aside to bring to room temperature. In a large mixing bowl, whisk together the granulated sugar, oil, applesauce, and cornstarch until the sugar and cornstarch dissolve, about 2 minutes. Mix in the extracts. Once the chocolate mixture has cooled a bit, stir that in as well. Sift in the flour, baking soda, baking powder, and salt. Beat until the batter is relatively smooth. Pour the batter into the prepared pan and bake for 45 to 55 minutes, or until a toothpick or butter knife inserted into the cake's center comes out clean. Remove the pan from the oven and let the cake cool for about 20 minutes. Then invert the pan onto a serving plate to remove the cake, and cool completely. Once the cake is cool, sift the confectioners' sugar over the top and serve.
Cake Source: Isa Chandra Moskowitz and Terry Hope Romero as published in Yoga Magazine via Susan Kaplan
Vegan Vanilla Pudding:
1/3 cup granulated sugar
3 tablespoons cornstarch
pinch salt
2 cups unsweetened or plain soy milk
1/2 teaspoon vanilla extract
In a small or medium saucepan, combine first three ingredients. Gradually whisk in soy milk. Turn heat to medium-high and cook, whisking constantly for 3-4 minutes or until mixture is quite thick. Remove from heat and cool to room temperature, whisking occasionally. Then chill in refrigerator for 2-3 hours.
Pudding Source: Jolinda Hackett at About.com who reprinted the recipe with permission from The Compassionate Cook Cookbook.