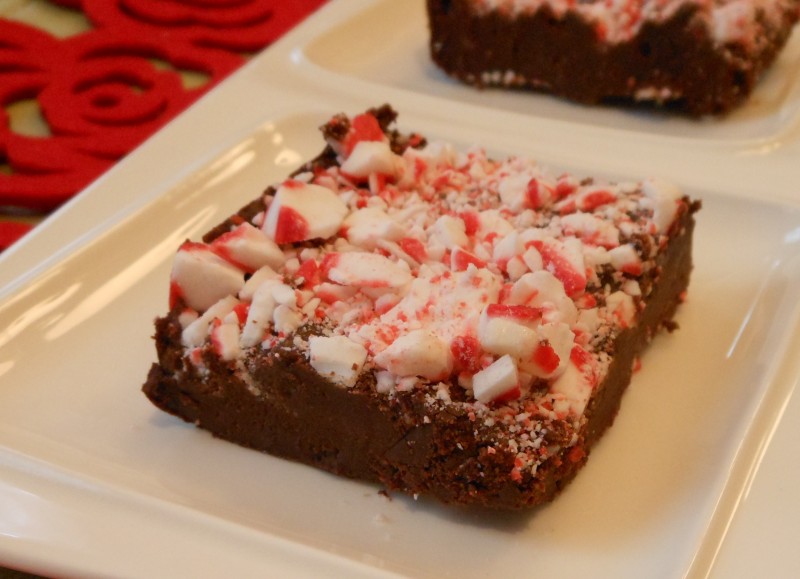 Recipes for fudge abound.  But today's cooks seem to opt for foolproof methods that either call for marshmallow cream or condensed milk (both non-vegan ingredients) to prevent that unappetizing and very disappointing sugar crystallization.
Though the area where I live has come a long way in terms of vegan grocery accessibility, we still don't have vegan condensed milk that I know of.  I'm sure I could order it online, but when I get ready to make fudge, it isn't with much advance warning.  No, it's a response to an intense and irrepressible craving!
A couple of years ago, Jonesin' for 7-layer Bars and racking my brain for a condensed milk substitute, it suddenly occurred to me that Cream of Coconut was about the same consistency and sweetness.  So, I substituted it, and it worked beautifully!  This year, craving some post-holiday holiday fudge–because I never got around to it before Christmas–I wondered if Cream of Coconut could be substituted for condensed milk in a simple fudge recipe.
Indeed it can!  And, though I love the taste of coconut, it is undetectable.  The fudge just tastes like deep, dense,-yet-silky chocolate with nuances of sea salt and vanilla.
For my fudge redux, I modified a recipe that I found online in a number of ways.  In addition to the Cream of Coconut substitution, I also used vegan butter and vegan chocolate: a no-brainer.  But then I also added 1/3 cup of cocoa for greater depth and density, a pinch of coarse sea salt because I love the way sugar and salt play together, and, though most fudge recipes don't call for it, I added a spot of vanilla extract for a little bit of complexity.  And  I wouldn't change a thing!
Because vegan chocolate is rather "dear," I opted for 9 ounces (the size bag that I can purchase here)  instead of a pound of chocolate chips/chunks as the original recipe called for.  But, certainly, if you don't mind spending about 10 bucks on the chocolate alone, use a pound or 18 ounces (2-9 ounce bags of chips) and the full can of Cream of Coconut, doubling the other ingredients as well.
Recipes calling for a pound of chocolate are typically made in an 8-inch square pan for a nice thick slab.  But, even though I only made about half of a typical recipe, I still used an 8-inch square pan and felt that, especially with a generous coating of crushed peppermint, the slab was plenty thick.  This candy is very rich!  But if depth is important to you for appearance, just use a 4 x 8″ or 5 x 9″ loaf pan.
Regardless, I think the results are fabulous and hope you agree!
9 ounces vegan semi-sweet chocolate chips/chunks
1/4 cup vegan butter
7 ounces Cream of Coconut (not coconut cream, milk, etc.; Coco Lopez is a common brand)
1/3 cup cocoa powder
1/4 teaspoon pure vanilla extract
1/8th teaspoon coarse sea salt
Optional: 3 to 5 ounces soft peppermint sticks, crushed
Oil an 8-inch square pan with non-stick spray or vegan butter and set aside.  In the microwave or in a double boiler, melt together vegan chocolate chips/chunks and vegan butter.  Remove the bowl or pan from the heat and whisk in Cream of Coconut, followed by cocoa powder, vanilla extract and coarse sea salt.  Pour fudge mixture into the prepared pan, lightly smoothing the top.  Let cool to room temperature and then either cover and refrigerate until cold and very firm, several hours or over night or, first, sprinkle the top with optional crushed peppermint, pressing lightly with your palm to adhere it to the surface, and then chill.  Slice into squares and serve immediately, refrigerating any leftovers.