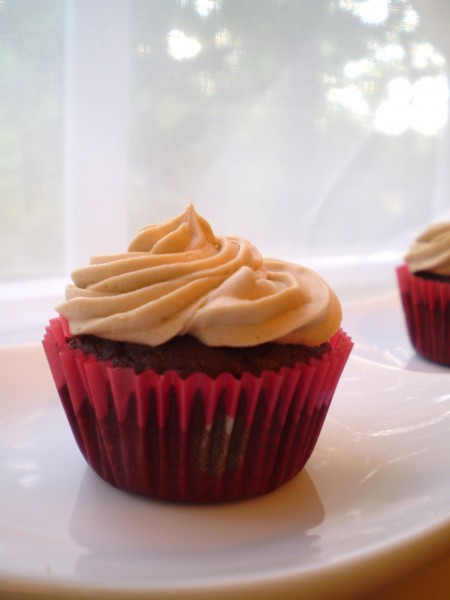 Yield: 2 1/2 dozen miniature cupcakes
Where did May go?  I feel that I've been out of touch for so long, and that was not my intention!
I had the flu for the first two weeks of the month, and it was all I could do to get myself to school and home.  And, I guess, by the middle of the month, we were deep into testing, final assignments, end of year celebrations and, come the first of June, the creation of exams and oh-so-much-more in preparation for graduation which is only a week from tomorrow!  The last days of school are absolutely breathless!
Speaking of breathless, these fabulously decadent cupcakes will take your breath away!
They were inspired by the irrepressible Kisha Marie, Starbucks barista and beaded jewelry designer extraordinaire.  I love starting my day with an exchange of greetings, ideas, and news with Kisha.  Her exuberance is infectious.  And, I swear, she has my Green Tea Soy  No Syrup Frappuccino started before I even arrive!
Every so often, my local Starbucks where she works offers free tastes from a big carafe.  A recent Kisha Marie concoction gave rise to my newest favorite cupcake: a blend of iced Via concentrate, coconut syrup, and soymilk.  Mmmm…  She always gets the balance of flavors,  consistency, and color exactly right.
Though there is no chocolate in her signature beverage, I thought the chocolate cupcakes would be a perfect foil for the coffee and coconut in the frosting.  Yes, indeed! And the Kahlua?  Well, who needs to justify coffee liqueur?  I just have to remember not to spike them when I share with my students!
But I did share them with all my pals at Starbucks.  The cupcakes received a latte praise (sorry, I couldn't resist), though Kisha recommended that I use Via instead of my standard espresso powder.  I'm sure she's right about that.  Next time!
1 cup all purpose flour
3/4 cup natural sugar
1/3 cup finely ground almonds, plain or toasted for deeper flavor (use a food processor to achieve the consistency of an almond meal)
1/3 cup cocoa powder
1 1/2 teaspoon baking powder
1/4 teaspoon sea salt (table salt is fine, but I love sea salt even in baked goods)
1/4 cup coconut oil, melted (or canola oil)
1 cup chocolate almond milk (chocolate soymilk may be substituted)
1 teaspoon vanilla extract
1/2 teaspoon almond extract
5 tablespoons Kahlua or other coffee flavored liqueur for brushing tops
Coconut-Espresso Buttercream Frosting (recipe follows)
Optional garnish: 30 chocolate-covered coffee beans, sliced almonds, or a pinch of plain or toasted coconut
Line 30 mini-muffin cups with mini-muffin papers.  Preheat oven to 350 degrees.  In a large mixing bowl, stir together all dry ingredients.  In a small bowl, whisk together all wet ingredients except Kahlua.  Make a well in the center of the dry ingredients and pour in the wet mixture.  Stir both together until the batter is smooth, though a few small lumps may remain.  Using a small scoop, divide batter evenly among the lined muffin cups.  Bake for 20 minutes or just until a toothpick inserted in the center of one cupcake comes out clean.  Check at 18 minutes to avoid over-baking.  Remove muffin tins to wire racks to cool.  When cool enough to handle, remove cupcakes from the tins onto the racks in order to prevent them from continuing to cook.  Prick each cupcake a few times with a toothpick and brush the tops with up to 1/2 teaspoon Kahlua each.  Spoon the frosting into a piping bag fitted with a star tip and pipe in swirls on top of each cupcake.  Or simply spread the frosting on each cupcake with a dinner knife, spoon or offset spatula.  Garnish as desired and serve immediately or store in the refrigerator in an airtight container.
Coconut Espresso Buttercream Frosting:
6 tablespoons vegan butter (I like Earth Balance)
6 tablespoons vegetable shortening
3 cups powdered sugar
4 teaspoons espresso powder dissolved in 4 teaspoons unsweetened or plain soymilk
1 teaspoon vanilla extract
2 teaspoons coconut extract (extract is preferred over coconut flavor, though the flavor will do if you can't find extract)
Cream together butter and shortening until smooth.  Beat in powdered sugar, one cup at a time, alternating with the espresso and soymilk mixture, until smooth and creamy.  Start electric mixer on low so as not to coat yourself in sugar.  Beat in vanilla and coconut extracts until completely incorporated.