I can't see Santa's Forest for these adorable trees.
Apparently they are all the rage this year, but I was evidently a little late to the pastry tree party.  Make yours with pizza dough or puff pastry and spread with the sweet or savory filling you most crave. Just be sure to include a creamy base to adhere the layers together.
My version is sweet–but not too–uses only three ingredients and, after the pastry thaws, is ready to devour in under 30 minutes.  I left a Middle Eastern dinner and this tree last night for our dog sitters (yes, we are those dog owners) while we joined friends for their Christmas Eve Eve tradition: a salad and sip of wine followed by a Christmas light-lit walk over to the Naro, an independent film house, to see "It's a Wonderful Life." The twins left some of the tabouli salad but not a crumb of the pastry. It was a huge hit with these 19 year olds.
My take on this new classic was inspired by its key ingredient: Rigoni di Asiago's Nocciolata Oraganic Dairy-Free Hazelnut & Cocoa Spread, generously sent to me for product review purposes. With a deeply nutty and chocolatey flavor–its richness undiluted by dairy–and a thick and creamy–but spreadable–texture, this product is tops in my pantry (it needs no refrigeration).  It is also gluten- and palm oil-free.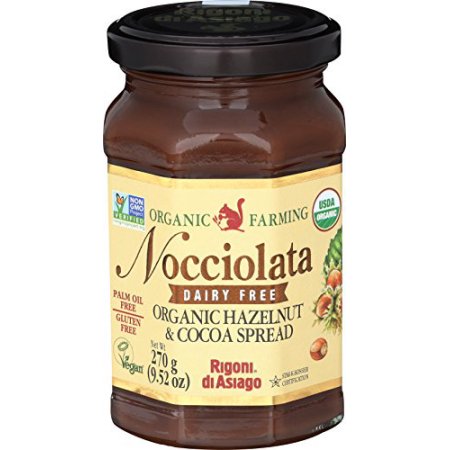 Recipe
1 box Pepperidge Farm Puff Pastry (2 sheets), thawed according to package directions
4.5 to 5 ounces vegan Hazelnut-Cocoa spread (1/2 jar Nocciolata)
1 to 2 tablespoons non-dairy milk
Preheat oven to 400 degrees. On baking stone or parchment- or Silpat-lined baking sheet, stack the two pastry sheets.  With a sharp knife, cut into a triangular tree shape with a 1-inch or so wide trunk at the bottom. Remove top sheet, spread bottom sheet with hazelnut-cocoa spread, replace top sheet, lining up edges, and press down gently.
Cut 1 star from scraps and whatever other shapes you like fir nibbling or to serve as croutons on salads. Place pastry shapes on a separate stone or lined baking sheet.
Make 3/4-inch wide horizontal cuts from outer edges of triangle toward the center, stopping even with outer edges of trunk leaving a 1-inch or so wide trunk up the center. Twist each long cut strip twice and the shorter ones once, pressing tips firmly against baking stone or sheet.  Brush very lightly with non-dairy milk, press star onto top point, and brush star with a tiny bit more non-dairy milk.  Bake for 20 minutes or until golden brown, but remove shapes cut from scraps after 10 or 15 minutes or they will burn. Remove baking sheet with pastry tree from oven, cool slightly, and slide tree onto serving platter. Serve warm or room temperature.