Yea, I know, I'm a seasonal vegan cook, and this recipe hardly fits that description… unless, like me, you consider chocolate to be a perennial food.
This recipe was inspired by a pan of dessert bars I spied in our administrators' kitchen at school about a week ago.  Theirs had a thin chocolate crust topped by a thick peanut butter layer and another thin chocolate ganache layer.  They looked so good that I thought I would absolutely perish if I didn't figure out how to make a vegan version and fast.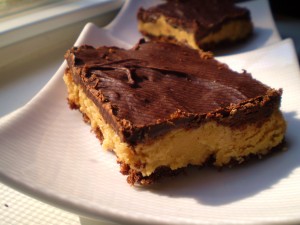 However, I couldn't get started on them as quickly as I'd hoped because, after I went to the  store, I came home to put the groceries away and could not find my (honey-free) graham crackers anywhere.  Figuring that I must have stuck them somewhere really odd, I looked in places like the freezer…and the washing machine.  No luck.  So, I went back a couple of days later, bought another box, and made them on Sunday for my students' National Art Honor Society meeting last Monday.  A hit!
After just a little research, I put a couple of recipes together and fell head over heels for the result.  They are FAR better than my memory of Reese's Peanut Butter Cups.  And they are very well-behaved, slicing beautifully.  They do need to stay refrigerated, but that's a small price to pay for creamy perfection!
Yield: 24 bars
Crust:
1 3/4 cup finely crushed vegan graham crackers (Nabisco brand "original" are honey-free), that's one wrapped package within the box
1/2 cup vegan butter, melted (I like Earth Balance)
1/4 cup unsweetened cocoa powder
Filling:
2 1/2 cups natural creamy peanut butter (crunchy is fine, but the mixture is processed and ends up creamy anyway)
3/4 cup vegan butter
1 tablespoon vanilla
3 cups powdered sugar
Ganache:
1/4 cup soy creamer
11 ounces vegan chocolate chips
Preheat oven to 350 degrees.  In a medium bowl, stir together all crust ingredients.  Press the mixture into the bottom of a 9 x 13″ pan.  I like to use the bottom of a glass to help with this task.  Bake for 10 minutes, remove from the oven, and cool completely.  Once partially cool, I like to place the pan in the freezer for the crust to finish cooling.  (Avoid placing a hot pan in the oven as it might raise the temperature of the compartment to a potentially dangerous level.)
In the bowl of a food processor, combine all filling ingredients and process just until smooth.   Add 2 cups of the powdered sugar and process until combined, pulsing if necessary.  Add the remaining cup of powdered sugar and do the same.  Dollop the mixture over the cooled crust and pat evenly to cover.  Cover the pan and refrigerate until the ganache is cool enough to use.
In a 1-quart saucepan, bring  soy creamer to a simmer.  Remove the pan from the heat, add chocolate chips, and stir or whisk until mixtures is smooth.  Let it cool to room temperature and then spread thinly over the peanut butter layer.  It will look like there might not be enough ganache, but there is the perfect amount (if you don't eat too much of it while frosting the bars!).    Cover and refrigerate for 2 more hours.  Slice into bars and serve.  Store any leftovers–leftovers, yea, right–in the refrigerator.
This recipe was adapted from Midwest Living (Eagle Ridge Inn and Resort).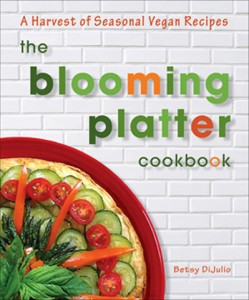 Just 2 days left in my Blooming Platter Cookbook giveaway!  Go here for the details and simple directions on how to enter and win!