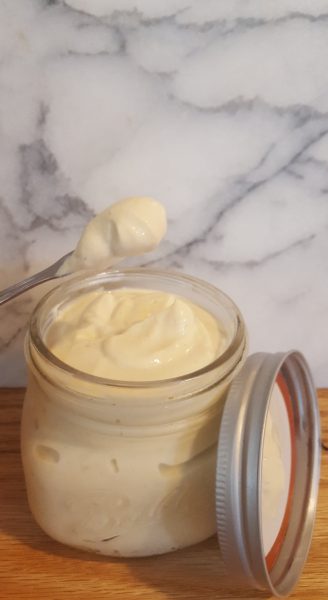 Does this luscious vegan mayo taste exactly like egg-based mayo?  No.  Will you care?  Absolutely not.  It is delicious and can be used in place of egg- and oil-based mayo alone or in tartar sauce and salad dressings, or even as a binder for casseroles in place of cream, sour cream, and condensed soups.  Note: omit the optional turmeric for an almost snowy white mayo.
Best Blooming Platter Low-Cal 4-Ingredient Mayo
Yield: 2 cups (8 tablespoons per tablespoon as compared to 100 for egg and oil-based mayo!)
Note: if you like a sweeter mayo, add a hint of stevia.
1 pound firm or extra-firm Silken tofu ( the package may not specify a firmness and it will be fine)
Juice of 1/2 medium or large lemon (about 1 tablespoon)
1/4 to 1/2 teaspoon garlic powder
Black Salt to taste- avoid skimping as it will wake-up the flavor (sea salt may be substituted, but Indian black salt–available at Indian markets and online–lends a sulphery "eggy" flavor that is perfection)
Optional: 1/8 teaspoon tumeric powder
Process all ingredients together in food processor or blendet until thick and very creamy, scraping down sides of bowl as necessary and adjusting seasoning as desired. Store in an airtight container in refrigerator.