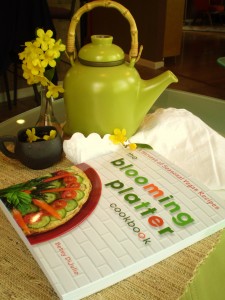 I am thrilled that my first book, The Blooming Platter Cookbook: A Harvest of Seasonal Vegan Recipes is now in print!
I arrived home on a recent Friday to find a box on our front porch much larger than the necklace I had ordered!  When I saw that it was from my publisher, the Vegan Heritage Press, I nearly tumbled down the steps.
Once inside and safely out of the drizzling rain, it was such a joy to tear into the box and hold a copy in my hands.  And I can't wait for you to do the same.  Previously just available for pre-order on Amazon, the book is now available for shipping.
I'm very excited to share what have been called both "simple and sophisticated" and "accessible and elegant" recipes for "easy home-style dishes to creative upscale meals you'll be proud to serve your guests."  How bloomin' fantastic is that?!
The Blooming Platter Cookbook: A Harvest of Seasonal Vegan Recipes is a celebration of the seasons, featuring a wide range of accessible, elegant vegan recipes for the home cook. Spanning regional American favorites and global cuisines, these 175 recipes feature all the essential goodness that fresh vegetables, fruits, and herbs bring to your table, all year 'round. The book includes recipes for appetizers, soups, sandwiches, salads, main dishes, sides, desserts, and brunch, and they are divided by season within each chapter. Recipe variations and menu suggestions provide inspiration for creativity in the kitchen. The book also includes 8 pages of full-color photos, a general index, and indices for each chapter.
Order your copy from Amazon or Barnes & Noble now!  Please visit to take a look and, if you like what you see, I hope you will click the "like" button and order a book of course!  If you already have a book, I'd love it if you'd write a review!
If you're a local, The Blooming Platter Cookbook is available at Prince Books, Norfolk's favorite book store.
If you prefer to purchase from a bricks-and-mortar bookstore in your town, please contact me with your email address to request a Trade Sheet.  You simply print it and take it to your local bookseller in order to request that they carry the book.
Cheers and thank you for your support!
Vegan Heritage Press
Paperback, 224 pages, $18.95
ISBN: 978-0-9800131-3-9
Pub Date: April 20, 2011