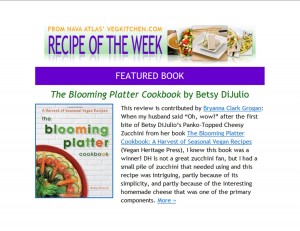 Okay, I know Huff is the true celebrity and top dog in our household…
but I was still thrilled this week when Nava Atlas chose my Blooming Platter Cookbook as the "Featured Book" for her VegKitchen e-newsletter (with a mere 12,000 subscribers–wow!).  Follow the links to read the review and to subscribe to the VegKitchen "Recipe of the Week" newsletter, which includes much more than just a recipe.
Many thanks also to Bryanna Clark Grogan who allowed Nava to publish her lovely review of the book.
Nava and Bryanna each have new books out themselves and I am the proud owner of both Vegan Holiday Kitchen and World Vegan Feast.  I have reviewed the latter, but stay tuned for a review of the former closer to Easter/Passover.
Thanks again, gals!