As much as I love to bake cakes and cheesecakes, that is just a lot to deal with and there are only two of us here, one of whom eats a dramatically different diet than I do.
So, my latest passion is to try to take all of the flavors that I would have put in a cake or cheesecake and put them into a cookie with far less calories than a slice of cake, far less mess, and ease of tucking into a friend's purse or hand as a little love gift.
I wanted to make these super simple by rolling them into logs, chilling, and slicing before baking. I learned the hard way that there are too many delicious chunks in the dough for them to slice without breaking apart, so I don't advise trying it!
Yield:1 dozen
1/2 cup vegan butter
1/2 cup powdered sugar
2 tablespoons sugar
1/2 teaspoon vanilla
1/2 teaspoon almond extract
Zest of 1 medium blood orange or regular orange
Juice of 1/2 medium blood orange or regular orange
2 tablespoons cocoa powder
1 1/4 cups all purpose flour
1/4 cup toasted slivered almonds, broken or roughly chopped
1/4 cup dried cherries
1/4 cup vegan white chocolate chips
Cherry Glaze (recipe follows)
Garnishes: orange zest, dried cherries, and/or slivered or sliced almonds
Cream together butter and both sugars. Beat in extracts, zest, orange juice, and cocoa powder. With mixer on low, beat in flour about 1/4 cup at a time, scraping down sides as necessary. Stir in nuts, cherries, and white chocolate chips. Roll tablespoons of dough into balls, place two inches apart on cookie sheet, and press to about 1/2 in thick with the bottom of a sturdy glass. You may need to use a spatula to remove, but you can coat the bottom of the glass with a little cocoa powder.
Preheat oven to 350 degrees. Line a baking sheet with Silpat or parchment paper. Slice cookies 1/4-inch thick with a sharp knife and place 2-inches apart on lined baking sheet. Bake 8 to 10 minutes or until set and just starting to brown. Transfer to wire rack, cool completely, and ice with Cherry-Orange Glaze. Garnish as desired.
Cherry-Orange Glaze
1 1/2 teaspoons vegan butter, softened
1 1/2 teaspoons vegan cream cheese
1/2 teaspoon maraschino cherry juice
1/4 teaspoon almond extract
1/4 teaspoon vanilla extract
1/2 cup powdered sugar
In a small bowl, whisk together all ingredients except powdered sugar until smooth. Then whisk in powdered sugar until no lumps remain. Pop in freezer for 10 minutes or so to stiffen slightly.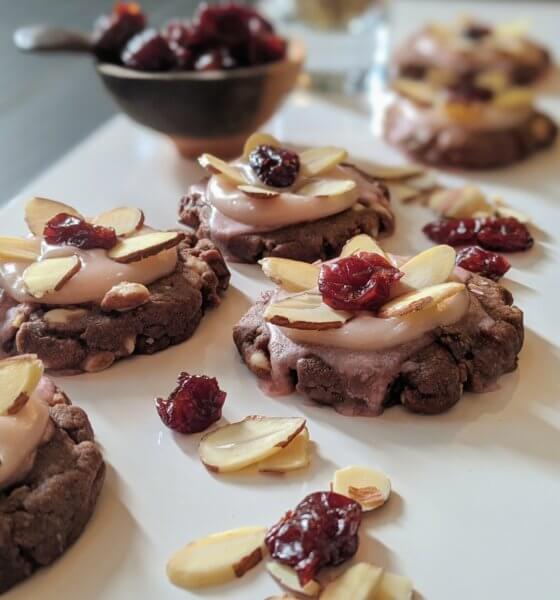 #veganshortbread #plantbasedshortbread #veganrecipes #veganfoodshare #veganfoodporn #plantbased #plantbasedrecipes #plantbasedfoodshare #plantbasedfoodporn