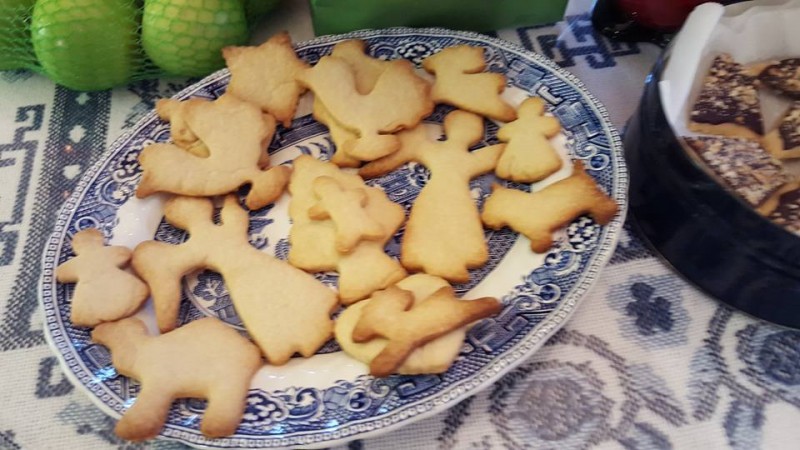 Roll and cut cookies aren't just for Christmas anymore…
These family favorites hail from my late paternal grandmother. Not a sugar cookie and not a sand tart–they are their own special thing–she shipped them from Houston to wherever we were spending Christmas, or kept them for our arrival at her house. When she moved to MS, we sometimes made them together. And after she passed away, we have kept the tradition alive in MS and VA.
Often, I have made them for gifts, packaged in tins from the Dollar Tree and tied with festive ribbon.  Practically legendary, they were the subject of a food feature I wrote for The Virginian-Pilot, and my sister and I included them in the program we created for Mam-ma's funeral, so the tradition could spread beyond our family.
Not to sweet, my family prefers them a tiny bit over-browned. These cookies freeze and ship beautifully.
1 pound vegan butter, softened
1 cup granulated sugar
Vegan egg substitute to equal 5 eggs
1/2 teaspoon vanilla extract
1 teaspoon baking powder
5 cups all purpose flour
Preheat oven to 350 degrees. Butter two baking sheets and set aside.
With an electric mixer, cream together butter and sugar until fluffy. Beat in eggs/egg substitutes, one at a time, until well combined. Beat in vanilla and baking powder.
With mixer on low, add flour, 1 cup at a time, mixing just until dough forms. It should be tender, but not sticky, and hold its shape nicely.
Working with small amounts of dough at a time (about 1/8th), on a lightly floured work surface, roll to about a scant 1/4-inch thick and cut with favorite cookie cutters. Place cookies about 1-inch apart on prepared pans and bake about 13 minutes or until golden brown, rotating pans halfway through.
Cool cookies slightly on pans, and then remove to racks to cool completely. Repeat with remaining dough. Store in airtight tins or containers.