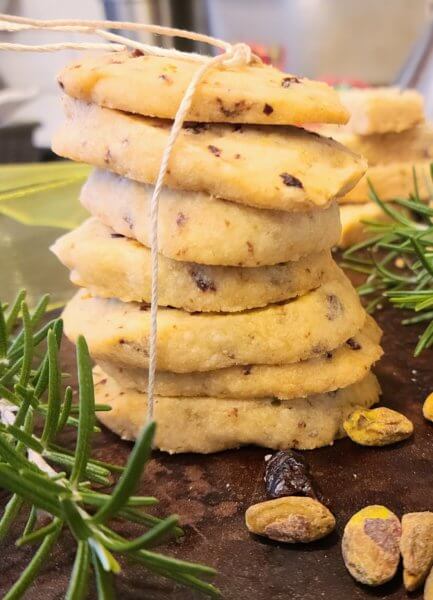 Yield: 2 dozen cookies
These buttery cookies are so pure and simple, the perfect hybrid of crisp and tender.
Wherever we were for Christmas as a family of four–our home in Richardson, TX, our maternal grandmother's in Dallas, or Mam-ma's and Pap-pa's in Houston–Mam'ma always made sure these and three other kinds of cookies, perennially the same, were there too, packed in wax paper-lined metal holiday tins.
The crackley paper, the aroma of sweet butter, vanilla, and almond–none of her cookies were spiced–and the shapes: slices, balls, Santas, reindeer, stars, bells, Christmas trees, and more, are the embodiment of Christmas for me.
Though Mam-ma probably creamed the butter by hand, I use my Kitchen Aid mixer, except when including my addition of nuts and dried fruit. Then I use a food processor as it does the chopping for you. But feel free to chop the ingredients and fold them into the dough made by hand or with a mixer.
Russian Almond Cookies (with Pistachio and Dried Cherry/Cranberry Variation) [vegan & plant-based)
1 cup vegan butter
1/2 cup powdered sugar
1/2 teaspoon almond extract
1/2 teaspoon vanilla extract
2 cups flour
Optional:
1/4 cup pistachios
1/4 cup dried cherries or cranberries
Place all ingredients, including optional nuts and fried fruit, in a large food processor. Pulse until well combined and dough comes together in a ball. Divide dough in half, roll each into a log about 1 1/2 inches in diameter, wrap in plastic wrap, and refrigerate 20 to 25 minutes. Preheat oven to 350 degrees and line 2 baking sheets with Silpat or parchment paper. With a thin sharp knife, cut each log diagonally into 1/4″ thick slices, and place about 1-inch apart on prepared sheets, as they won't spread much at all. Bake 10 to 12 minutes or until lightly golden brown. Cool on wire racks.
#vegan #veganrecipes #veganfoodshare #veganfoodporn #plantbased #plantbasedrecipes #plantbasedfoodshare #plantbasedfoodporn #Veganchristmascookies #plantbasedchristmascookies