Single Vegan Microwave Oatmeal-Chocolate Chip Cookie!
It is ready in under 5 minutes, including 1 and 1/2 minutes of microwave cooking time.
It took three attempts over three days, but I finally got it right. Recently I posted my recipe for a single vegan microwave chocolate chip cookie, but wanting something with some more healthful ingredients in it, I decided to try an oatmeal version.
Bob, my fiercest critic and greatest supporter, said the first one tasted good – a far cry from his "not bad" –  but crumbled into a heap. So I tried it again and created an oatmeal-chocolate chip pancake.
Today's version, however, was perfect: delicious, cookie-like in texture, and sugar-free because I made it with stevia, though you could use Demerara sugar if you prefer.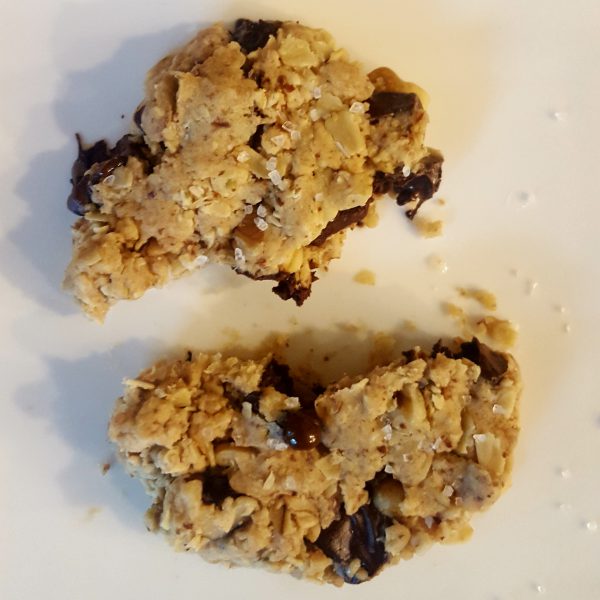 Recipe:
2 tablespoons flour (I use white whole wheat)
2 tablespoons old fashioned oats
2 tablespoons Stevia or Demerara sugar
1 tablespoon vegan butter
1 teaspoon Chia or flax seed meal
1 teaspoon non-dairy milk (I use soymilk)
2 drops vanilla extract
1 drop almond extract
1 tablespoon vegan dark chocolate chips or small chunks
1 tablespoon broken walnuts
Sea salt
In a small bowl, mix together all ingredients with your fingers. Pat into a cookie shape about 1/2 inch thick on a microwave-safe plate. Cook at full power for one and a half minutes. Depending on your microwave's power, you might have to adjust cooking time. Sprinkle with a few grains of sea salt and let cool slightly before devouring.
#vegan #veganrecipes #veganfood #veganfoodshare #veganfoodporn #plantbased #plantbasedrecipes #plantbasedfood #plantbasedfoodshare #plantbasedfoodporn