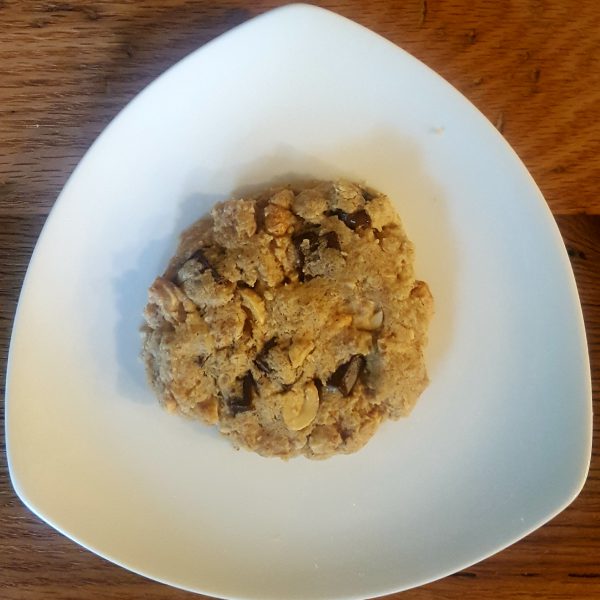 I had to do it…follow up my Single Vegan Microwave Chocolate Chip and Oatmeal-Chocolate Chip Cookies with a yummy peanut butter version.
Like the others, it is ready in under 5 minutes, including 1 and 1/2 minutes of microwave cooking time.
First try was the charm and I discovered that
chia/flax/egg substitute not necessary.
Save 96 calories by using stevia!
Recipe:
3 tablespoons flour (I use white whole wheat)
2 tablespoons Stevia or Demerara sugar
1 tablespoon vegan butter
1 tablespoon peanut butter
1 teaspoon non-dairy milk (I use soymilk)
2 drops vanilla extract
1 drop almond extract
1 tablespoon vegan dark chocolate chips or small chunks
1 tablespoon roasted and lightly salted peanuts
A few grains sea salt if peanut butter is on the sweeter side
In a small bowl, mix together all ingredients with your fingers. Pat into a cookie shape about 1/2 inch thick on a microwave-safe plate. Cook at full power for one and a half minutes. Depending on your microwave's power, you might have to adjust cooking time. Devour warm or slightly cooled/cooked and it will hold its shape.
#vegan #veganrecipes #veganfood #veganfoodshare #veganfoodporn #plantbased #plantbasedrecipes #plantbasedfood #plantbasedfoodshare #plantbasedfoodporn