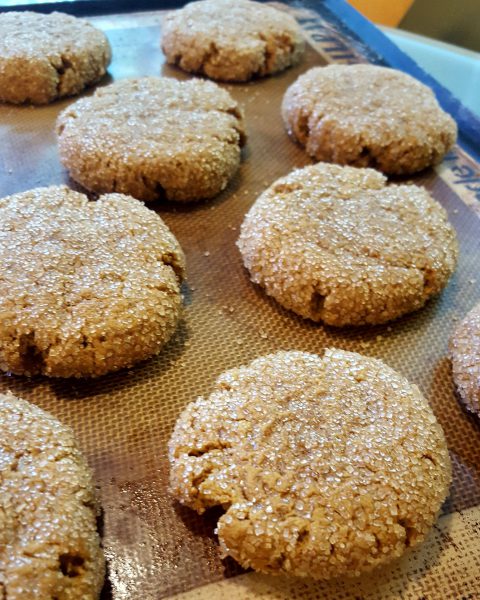 The moment pumpkin lovers have all been waiting for: a pumpkin cookie that is chewy rather than cakey or crisp!
Vegan Chewy Pumpkin Spice Cookies!
Long on a mission to create a pumpkin cookie that is a bit chewy rather than cakey or crisp, I recently had a brainstorm which was to take my veganized version of my dear friend Allison Price's Lemon-Ginger Cookies–one of my favorite all-time cookies (besides my grandmother's) which I have shared here prebiously–and tweak it. It worked beautifully and I am so excited to share on this very autumnal day.
Yield: 24 regular cookies or 10 to 12 large
3/4 cup vegan butter
1 cup natural sugar plus 1/2 cup, divided
1/4 cup dark molasses
6 tablespoons pureed pumpkin
1 tablespoon + 1 teaspoon pumpkin spice
1/2 teaspoon baking powder
2 1/2 cups all purpose flour (I use white whole wheat)
Preheat oven to 350 degrees.  Line a baking sheet with  Silpat or waxed paper.  You may use a baking stone if you prefer. Place 1/2 cup sugar in small bowl and set aside. With an electric mixer, cream together butter and remaining 1 cup sugar until fluffy. Beat in molasses, pumpkin, pumpkin spice, and baking powdet just until well combined. With mixer on its lowest speed, mix in flour 1/2 cup at a time. If making regular cookies, scoop up dough by tablespoons, roll into balls, roll in remaining sugar, and place about 2 inches apart on prepared cookie sheet. If making large cookies, follow the same procedure, only scoop up dough by ice cream scoopfuls to make about 10 to 12. Also, if making large cookies, use the bottom of a glass to press the balls to about 1/2 tall. Bake regular cookies 10 minutes and large ones 20. Allow cookies to cool on their sheet on a wire rack. Store in an airtight container.
#vegan #veganrecipes #veganfood #veganfoodshare #veganfoodporn #plantbased #plantbasedrecipes #plantbasedfood #plantbasedfoodshare #plantbasedfoodporn