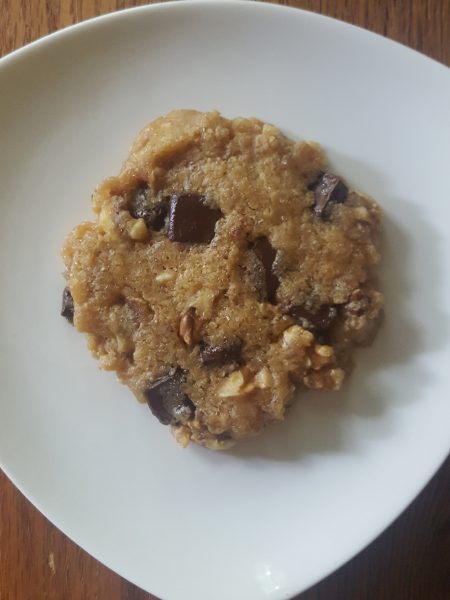 Danger, danger… you will either love me or hate me for this one!!!
I just figured out how to make a Dangerously Delicious Vegan Chocolate Chip Cookie for one in the microwave!  Actually, I found a recipe online and tweaked the ingredients and cooking process.
They are perfect for when you have a craving, but don't have a lot of folks to share them with, don't want a lot of them hanging around, and don't want many dishes to clean up.
Vegan Microwave Chocolate Chip Cookie  
Yield: 1 large cookie (app. 3 1/2 inches)
1 tablespoon melted vegan butter (I use earth Balance)
2 tablespoons Demerara sugar
2 tablespoons plus 2 teaspoons all-purpose flour  (I use white whole wheat)
1/8 teaspoon vanilla extract
1 to 2 drops almond extract
1 tablespoon vegan chocolate chips or chunks 1 tablespoon broken walnuts or other nuts
In a very small bowl or cup, whisk together the butter, sugar, flour, and extracts. With your fingers, mix in the chocolate chips or chunks and nuts. Shape into a cookie about 1/2 inch thick in the center of a microwave-safe plate. Microwave for about 60 seconds. Check for doneness in center. If it needs a bit more, microwave for another 20 seconds. You can enjoy it warm and it will be somewhat soft, or you can let it cool a bit and it will be firm enough to lift.
Note: all microwaves are different, so you might want to start out with just 45 seconds and continue to cook in 10 second increments. Cook's choice.