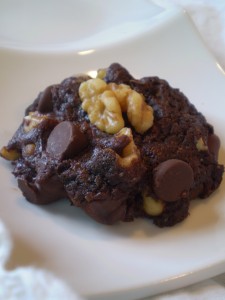 Yield: 3 dozen cookies
A small number of almost over-ripe plums gave rise to this unusual and unusually good cookie.  The plums provide mostly moisture in addition to subtle flavor and color, not to mention added nutrition–as do the walnuts– to an otherwise decadent treat.
To create this recipe, I started with my go-to brownie batter, omitting the water/coffee and adding plum puree plus a tiny bit of baking soda.  The results are plum delicious!    Note:  I only had a few plums, so I made one-fourth of this recipe.  It quarters or halves very nicely.
2 1/2 cups white whole wheat flour (or unbleached white flour)
2 cups natural sugar
1 cup unsweetened Dutch processed cocoa powder
1 teaspoon baking powder
1/2 teaspoon baking soda
1 teaspoon sea salt
1 1/4 cups canola oil (this sounds like a lot, but you'll need it)
2 cups very ripe pitted plums, pureed in food processor until fairly smooth
1 teaspoon vanilla extract
2 cups vegan chocolate chips (I like Trader Joe's–what  a great value!)
2 cups chopped walnuts plus 36 extra halves or  large pieces for garnish, one per cookie, if desired
Preheat oven to 35o degrees.  Line a baking sheet with Silpat or parchment paper and set aside.  (Line two if you have them, or bake the cookies in two batches.)  In a large mixing bowl, stir together all ingredients, except chocolate chips and nuts just until well combined.  The dough should be just slightly stiffer than brownie batter.  Stir in chips and nuts.  Spoon tablespoon-size mounds of dough onto prepared sheet, about 2 inches apart.  (I use a very traditionally-shaped shallow tablespoon measure, as I like the ration of height to width.)  Bake 12 minutes.  Check after 8 and after 10.  They should be set, but shiny in some spots, as they will continue to cook after they are removed from the oven.  Allow the cookies to cool slightly until they are easy to handle and then use a metal spatula to remove them to a wire rack to cool completely.  Store in an airtight container.