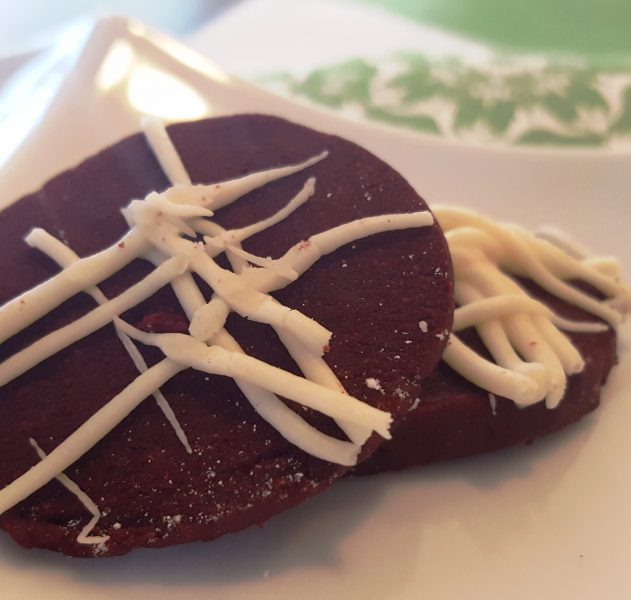 Yield: 5 dozen cookies
Well, I blew it in terms of posting these not-too-sweet rubry red cookies for Christmas.  But, they would be just as lovely for Valentine's Day. So, Happy Whatever!
Back in the day, when Better Homes & Gardens Magazine ran monthly reader recipe contests, these cookies won an award.  I brought them back tthis year for our Christmas Cheer Open House with a drizzle, instead of a dip, of white chocolate.  I think they are magically beautiful…add silver or gold nonpareils if you desire some sparkle.
1 cup vegan butter, softened
3/4 cup powdered sugar
3 tablespoons unsweetened cocoa powder
1-1 ounce bottle red food coloring (choose an organic, vegan version)
1/2 teaspoon vanilla extract
1/2 teaspoon almond extract
2 cups all purpose flour (I use white whole wheat)
8 ounces melted vegan white chocolate (I order white chocolate chips online)
Optional: silver or gold nonpareils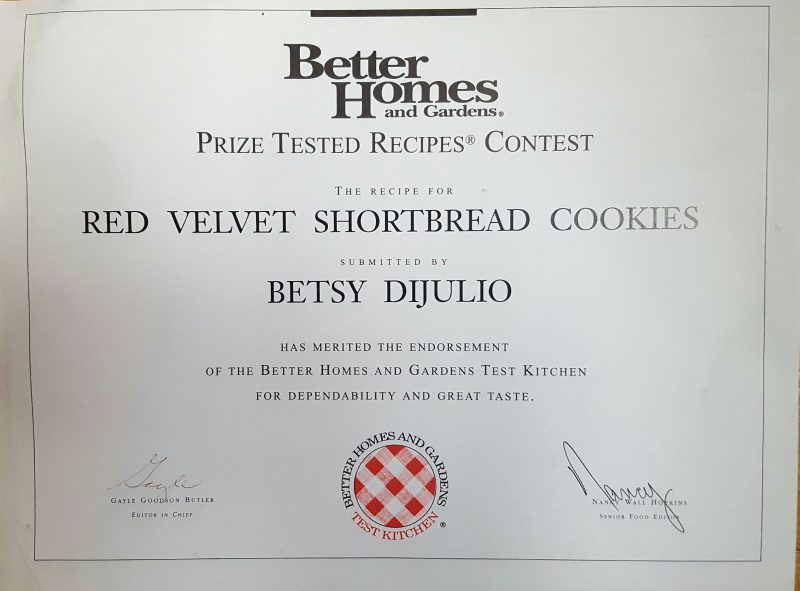 Cream together in an electric mixer butter, powdered sugar, and cocoa powder.  Turn off mixer and add food coloring, extracts, and 1/2 cup flour, and incorporate into butter mixture on lowest speed so as not to splatter.  Gradually add remaining flour on low speed, scraping down sides of bowl as needed.  Divide dough into fourths, roll into logs about 1 1/2 inches in diameter, wrap in waxed paper, and chill for 20 minutes or until firm.  Preheat oven to 350 degrees. Slice each log into 1/4-inch diagonal slices and place slices 2 inches apart on an ungreased cookie sheet, preferably lined with Silpat or parchment paper.  Remove the cookie sheets to a wire rack and cool completely.  Drizzle cookies with melted white chocolate (I use a pastry bag fitted with a small round tube for this task.)  Decorate with nonpareils if desired.