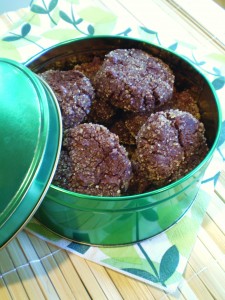 "Boss's Week" came and went last week, but other priorities prevented me from acknowledging it in any way, except to have one of my talented students create a "Happy Boss's Week" poster, by special request, featuring caricatures of each one of our administrators.  It was adorable and well-received, but I wanted to give our incredibly supportive principal and assistant principals something homemade.
I decided that a favorite chewy chocolate cookie would be perfect.  But I had just come home from the Asian market, so I decided to spice them up with a little lime zest.  (I remember, when I was a child, someone in our family was under the weather and a neighbor brought us a delectable chocolate-lime pie, a flavor combination I've rarely had since.)  When I tasted the dough, though–one of the beauties of eggless cooking!–it cried out for cinnamon and, especially, ginger to complement the sweet-tart lime and the pleasantly, but strongly flavored molasses and cane syrup (I used a combination).  Voila!  Vegan Spiced Double Chocolate-Lime Cookies were born.  Then, my husband suggested I attach the recipe plus three more, one for each season, from my brand new cookbook.  What a bloomin' inspired idea!
Enjoy at your Memorial Day BBQ or any time…perhaps with  little lime sorbet?
Yield: 3 dozen cookies
1 cup vegan butter, room temperature (I like Earth Balance)
1/2 cup canola oil
1 1/3 cups natural sugar plus 1 cup for coating
1 cup light-flavored molasses, pure cane syrup or, if you dare, dark corn syrup
2 teaspoon vanilla
3 cups unbleached all purpose flour
1 1/2 cups Dutch processed cocoa powder
1 teaspoon baking soda
1/2 teaspoon salt (if using unsalted butter)
1/2 teaspoon ground cinnamon (or to taste)
1/2 teaspoon ground ginger (or to taste)
Zest of 1 fresh lime
8-9 ounces vegan semi-sweet chocolate chips
Line two cookie sheets with Silpats or parchment paper and set aside. In the bowl of an electric mixer, place butter, oil, and 1 1/3 cup natural sugar.  Reserve remaining 1 cup sugar. At medium to medium-high speed, cream mixture until well-combined and fluffy. Add cane syrup and vanilla and beat just a few more seconds to combine, scraping bowl, as needed. Mixture may look slightly curdled, but don't worry. Add remaining ingredients, except chocolate chips, and beat on low speed, scraping bowl as needed, just until combined. Taste and add more cinnamon and ginger, if desired.  Add chips and beat on low just a few seconds to distribute.
Cover dough well and chill for half an hour, but no longer. Preheat oven to 375 degrees. Using a small scoop with a release lever, scoop out balls of dough about 1 1/2-inches in diameter. Roll in reserved 1 cup of sugar and place a generous 2" apart on baking sheets. Bake one sheet at a time for 4 minutes, open oven door and, using a spatula, quickly flatten each cookie slightly to 1/2-inch thick. Close the oven door and continue baking for 6 more minutes. DO NOT OVERBAKE. Cookies should be ever-so-slightly cracked, look a little moist and soft in the center, and be more set around the edges. Leave cookies on baking sheet and set on wire rack to cool for 5 minutes. Then, using a spatula, transfer cookies to the racks and cool to room temperature. Repeat with remaining baking sheet.  Store in an airtight container.