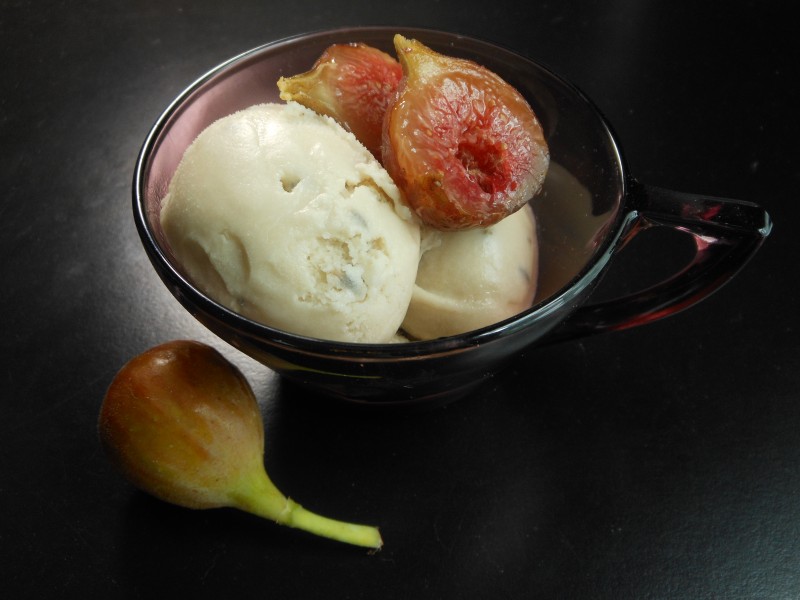 Yield: 1 1/2 quarts
A perfect ending to a perfect party!
Every year for the last four, my husband and I have hosted our annual Julia Child Birthday Bash on the Saturday night nearest to her birthday.  This year, the party was on August 10.
At around 7:30 each year, 10 or so of our foodie friends gather for a potluck celebration like no other!
This year, while I toyed with a birthday cake in honor of the 'ole gal, I opted for this Provençal-inspired ice cream instead.  And I think everyone was glad I did!
2 tablespoons arrowroot powder (thickens without crystallization)
1 cup unsweeteened soymilk
2 cups soy creamer
1/2 cup natural sugar
Pinch sea salt
1 tablespoon dried organic lavender buds
1 teaspoon vanilla extract
1 tablespoon Creme de Cacao
Garnish: fresh fig halves
In a small cup or bowl, whisk together arrowroot powder and 1/4 cup soymilk.  In a 1-quart saucepan, combine remaining 3/4 cup soymilk, soy creamer, sugar, salt, and lavender, and cook over medium heat until mixture begins to boil.  Remove it from the heat and immediately whisk in arrowroot mixture causing the mixture to thicken considerably.  Stir in vanilla and Creme de Cacao. Pour into a medium bowl, straining if desired (I don't).  Cool the custard to room temperature, cover, and chill for at least 3 hours.  Freeze in an electric ice cream maker (mine is a Cuisinart) according to manufacturer's directions.  Transfer to a covered freezer-safe carton, and freeze until stiffened.  Serve garnished, if desired, with fresh fig halves.