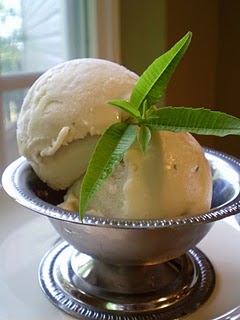 Yield: approximately 1 quart
If you follow this blog, you know that I am a huge fan of Wheeler del Torro's vegan ice cream. This founder and owner of Wheeler's Frozen Dessert Company in Boston and author of The Vegan Scoop is a culinary genius. I've tried several vegan ice creams, with and without tofu, but wasn't completely satisfied until I experimented with his formula.
The base for many, if not most, of Wheeler's ice creams is a cup of soy or other vegan milk, 2 cups of soy creamer, 2 tablespoons of arrowroot (a natural starchy thickener) and 3/4 cup of sugar. You will scarcely believe how smooth and creamy the end results will be because the arrowroot thickens the base and, more importantly, reduces the formation of ice crystals.
Last summer I made lots of varieties and would hate to have to choose a favorite. This summer, with my first ever full-blown herb garden in full bloom, I decided to inaugurate ice cream season with Vegan Lemon Verbena. And, boy, am I glad I did. It was 97 here on Saturday. If you're a frequent visitor, you know that lemon verbena is one of my favorite new herbs. The amount called for sounds like a lot, but it was really just about 3-4 nice-size stems.
If you don't grow this plant, run, don't walk, to your nearest garden center or farmer's market and buy yourself a lemon verbena plant. It is unbelievably versatile for both savory and sweet dishes.
1/4 cup unsweetened soy milk
2 tablespoons arrow root powder
3/4 cup sugar
approximately 70 lemon verbena leaves, rinsed and completely dried (about 3-4 stems)
3/4 cup unsweetened soymilk (plain or vanilla would also be nice)
2 cups soy creamer
Optional garnish: sprigs of fresh lemon verbena
In a small bowl, whisk together 1/4 cup soy milk with arrowroot powder until smooth. Set aside. In a food processor fitted with a metal blade, place sugar and lemon verbena leaves until leaves are finely minced. Pour remaining soymilk, soy creamer and sugar mixture into a small to medium saucepan and stir to combine. Place over medium heat and bring just to a boil. Remove from heat and quickly whisk in soy milk-arrowroot mixture until very smooth. Allow to cool to room temperature, whisk again if lumps remain, and then cover and refrigerate several hours or overnight. At this point, you may simply freeze the mixture according to your manufacturer's directions. Or, if you prefer not to have the actual leaves in your ice cream, simply strain the mixture through a fine sieve, pressing on the solids, and then freeze. Scrape the finished ice cream into an airtight container and store in freezer. Serve garnished with a sprig of fresh lemon verbena.