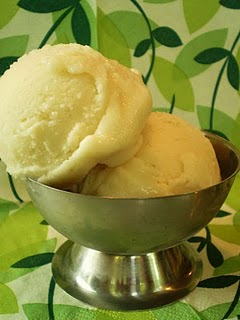 Yield: approximately 1 quart
This is my mom's favorite ice cream made my way.
When I was visiting my family a couple of weeks ago, Mama wanted me to veganize her Lemonade Ice Cream–doesn't that just sound like summer?– to christen the Cuisinart electric ice cream maker I had given her and my dad (they gave me one just like it and I think it's tops).
We didn't get the ice cream made until the day before I was leaving early the next morning, so I wasn't able to try any, but she reports that it met with ahhh-proval all the way around. I've been craving some ever since and finally made a batch this weekend. Oh, my, is it ever good: creamy and citrusy, kind of like a Dreamsicle only lemon flavored.
As always, I use Wheeler del Toro's basic formula (if you didn't purchase his Vegan Scoops cookbook last summer, treat yourself to it this summer). Since it makes about half as much ice cream base as my Mom's recipe, which calls for one large can frozen lemonade, I simply used half a can.
Also, there was no arrowroot powder in my folks' pantry, so I substituted an equal amount of cornstarch and it thickened beautifully. The only difference is that cornstarch doesn't "break" when heated and, in fact, it needs to be cooked just a minute or so to thicken properly. Arrowroot reportedly prevents the formation of ice crystals and I'm not sure that cornstarch does. However, the batch I froze at my parents' emerged from the ice cream maker silky smooth and didn't last long enough for them to find out.
Enjoy this cool and refreshing sweet taste of summer as often as you like, as it's a breeze to make.
1/4 cup unsweetened soy milk
2 tablespoons arrowroot powder
3/4 cup unsweetened soymilk (plain or vanilla would also be nice)
2 cups soy creamer
1/2 cup sugar
Optional garnish: twists of lemon rind or sprigs of fresh lemon verbena
In a small bowl, whisk together 1/4 cup soy milk with arrowroot powder until smooth. Set aside. Pour remaining soymilk, soy creamer and sugar into a small to medium saucepan and stir to combine. Place over medium heat and bring just to a boil. Remove from heat and quickly whisk in soy milk-arrowroot mixture until very smooth. Allow to cool to room temperature, whisk again if lumps remain and/or press through a sieve, and then cover and refrigerate several hours or overnight. When ready to freeze the ice cream, shake the lemonade container well, and whisk half a can into the soymilk mixture. Then freeze according to your manufacturer's directions. Scrape the finished ice cream into an airtight container and store in freezer. Initially mine was frozen, but quite soft. But, after a night in the freezer, it was perfect. So you may want to freeze it a day before you plan to serve it.