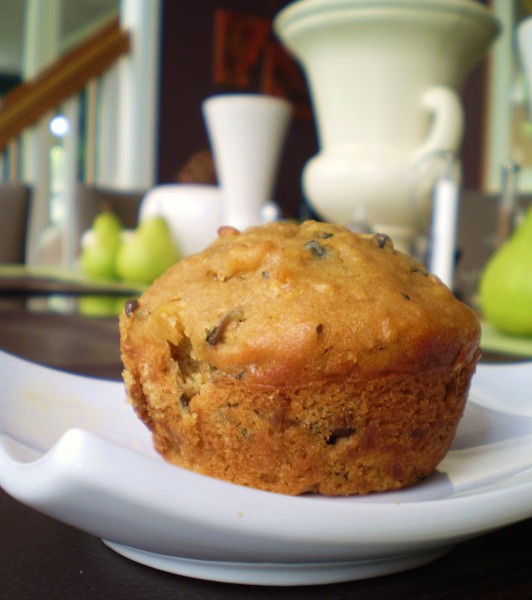 Yield:12 regular size (not super size!) muffins
Chunky natural peanut butter spread on apple wedges is one of my favorite snacks from childhood.  So, this week when I was craving a  wholesome and nostalgic baked good, I figured the combination would be scrumptious in a moist muffin.  And it is!
Normally, I would load up an apple batter with warm spices, but I didn't want them to overpower the peanut butter flavor and aroma.  So I just used a pinch of allspice, cinnamon and cloves.   But feel free to adjust to suit your taste.
Not too dense, but not light like a cupcake either these muffins are the epitome of balance in every way.
I know apples are not typically a spring fruit, but our farm market does have Virginia-grown ones in the warm months.  You'll love this recipe whenever apples are in season in your area.
1/2 cup chunky natural peanut butter warmed slightly in the microwave or in a saucepan on top of the stove (smooth would probably work just great as well)
1/2 cup canola oil
1/2 cup unsweetened soymilk (you can use plain, but you might want to slightly decrease the sugar)
1/2 teaspoon vanilla extract
1 cup natural sugar
2 cups white whole wheat flour
2 teaspoons baking powder
1 teaspoon baking soda
Pinch ground allspice
Pinch ground cinnamon
Pinch ground cloves
2 large apples, cored and very finely chopped; approximately 3 cups (fine like food processor-fine)
Line muffin cups with papers or oil well with nonstick spray.  In a large mixing bowl, stir together peanut butter, canola oil, soy milk and vanilla until well combined.  Stir in sugar, flour, baking powder and baking soda just until a smooth batter forms.  Then stir in chopped apples only until incorporated.  Divide evenly among prepared muffin cups and bake for 20 minute or until a toothpick inserted in the center of one comes out clean.  Allow to cool about 10 minutes in the pan and then remove to cool completely or to enjoy while warm.