This Mediterranean riff on sausage and sauerkraut is perfect for Oktoberfest.  A fresh take on its forebear, my version will perfume your kitchen with warm North African spices when its cool outside.  And the presentation is so special, yet simple, that you can turn dinner into a dinner party.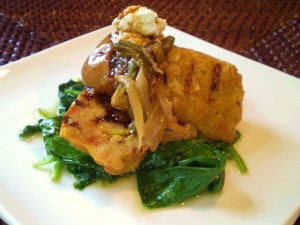 Yield: 4 servings
Note: you will need to make the Cashew Cream a day in advance.
Cashew Cream
You will have lots of leftover, but you'll be glad you do!
2 cups raw cashews, divided in half
2 cups water, divided in half
Sea salt to taste.
In a covered bowl, soak 1 cup cashews in 1 cup water overnight in the refrigerator.  Rinse and drain.  Process the cup of soaked cashews with the additional cup of raw unsoaked cashews and the remaining cup of water in a food processor for several minutes, or until smooth, scraping down the sides of the bowl as necessary.  Add salt to taste, process just to combine, and store covered in the refrigerator.
Vegan Chickpea Sausages
1 1/2 cups chickpeas, rinsed and drained (1-15.5 ounce can)
2 cloves garlic, minced
1 cup vegetable broth
1 tablespoon olive oil
1 teaspoon vegan Worcestershire sauce or Bragg Liquid Aminos
1 1/2 cups vital wheat gluten
1/2 teaspoon sea salt
Pinch of sea salt
1 teaspoon ground coriander
1 teaspoon ground cumin
1 teaspoon smoked paprika
Freshly ground black pepper or white pepper to taste
Roasted Apples, Onions, and Jalapenos (recipe follows)
Accompaniment: 8 cups of very lightly packed fresh baby spinach lightly barely sauteed in about 4 teaspoons of olive oil over medium high heat for about 30 seconds to 1 minute
Optional Garnish:
Cashew Cream (recipe is above)
A drizzle of Pomegranate Molasses (available at Mediterranean and Middle Eastern Markets)
Tear off 4 sheets of foil about 6 inches wide. Place a steamer basket in a 4-quart saucepan and fill with water just to the bottom of the steamer. Cover the pan and bring the water to a boil over medium-high heat. Reduce the heat to a simmer.
In a medium bowl, mash the chickpeas and garlic until creamy. A few small pieces of beans may remain. Stir in the vegetable broth, olive oil, and Worcestershire sauce, and set aside. In another medium bowl, whisk together vital wheat gluten, salt, coriander, cumin, paprika, and pepper.  Pour the bean mixture into a well in the center of the dry ingredients and, using a fork, stir the dry ingredients around the edge of the bowl into the wet center until all of the ingredients are completely combined.
Divide the dough into four equal parts. Place each part on a sheet of foil and shape into 5 to 6-inch long logs about 1 1/2 inches in diameter, pressing mixture together fairly firmly. Lay each log along one long edge of the foil and roll snugly, bending up the foil at the ends. Place the logs into the steamer–either  vertically or horizontally, two on the bottom and two on top of them–and steam for 40  minutes, adding more hot water to the saucepan
if necessary to prevent it from evaporating completely.
Remove the sausages from the steamer and unroll them when cool enough to handle. Be careful that you don't burn yourself with escaping steam. At this point, I like to split the sausages lengthwise and grill for 2-3 minutes on each side on my stovetop grill pan.  Serve the sausages on a bed of the lightly sauteed spinach topped with the roasted apples and garnished with a dollop of cashew cream and a drizzle of pomegranate syrup.  While the sausages steam, make roasted apples.
Roasted Apples, Onions, and Jalapenos
1 tablespoon olive oil
2 gala apples (or your favorite sweet-tart variety), stemmed, cored, and cut into 8 wedges each
1/2 of a large Vidallia or other yellow onion, cut into 1/4-inch slivers
1 jalapeno, stemmed, cored, seeded, and cut into 1/8-inch slivers (you can use two if you choose, but that makes for a really spicy dish!)
Sea salt
Preheat oven to 450 degrees.  Pour olive oil into a large metal roasting pan.  (If the ingredients are crowded, they will steam instead of roast.)  Add remaining ingredients and toss to coat with the oil.  Roast for 20 minutes, stirring after 10.  Remove the pan from the oven and serve as described above.
Blooming Platter Cookbook Giveaway
For more than 150 additional mouthwatering recipes to celebrate all year long, I invite you to check out The Blooming Platter Cookbook: A Harvest of Seasonal Vegan Recipes.
Enter to win you very own copy by clicking here.  Deadline is Saturday, October 8 at midnight!