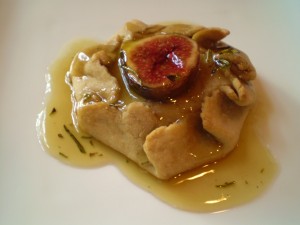 Yield: 4 tarts
Until now, I've always used sweetened cashew cream as a topping.  But something made me wonder what would happen if I baked it as a filling in a darling little tart that I call a crostada because they seem a little Italian, especially when bathed in my glistening Rosemary Caramel Sauce, inspired by my love of my vegan cheese spreads, fresh figs, and rosemary.  So what did happen?  The emergence of one of my favorite desserts of summer!  But when figs aren't in season, top them with any soft or lightly sauteed fruit.  And feel free to mix and match the herb you add to the sauce to best complement your choice of fruit.
1/2 cup Cashew Cream (recipe follows; must begin making the day before you plan to use, as cashews soak over night)
2 tablespoons natural sugar or confectioners' sugar (the former will lend a hint of crunch, while the latter will yield a smoother product)
approximately 1/2 teaspoon lemon zest (optional)
Crostada Dough (recipe follows)
2 fresh figs (or other soft fruit, such as banana slices, lightly sauteed in vegan butter and a pinch of sugar)
Rosemary Caramel Sauce (recipe follows)
Cashew Cream (this recipe entitled "Chantilly Whipped Cream" is from The Blooming Platter Cookbook, page 153):
Note: this recipe will yield approximately 2 cups, more than you need for the crostada, but you'll enjoy having it on hand.
2 cups raw, unsalted cashew pieces, divided
2 cups water, divided
6 tablespoons confectioners sugar
2 tablespoons lemon juice
1/2 teaspoon vanilla extract
Place 1 cup of the cashews in a medium bowl and cover with 1 cup of the water.  Cover the bowl and refrigerate overnight.  Drain and rinse the cashews in a colander.  Transfer the cashews to a food processor, add the remaining one cup of water and process until creamy, scraping down the sides of the bowl as necessary with a rubber spatula.  Add the remaining cup of cashews and process another few minutes , or until thick and creamy, again scraping down the sides of the bowl as necessary.  The mixture should have enough body to hold a peak.  Add the confectioners' sugar, lemon juice, and vanilla extract and process until combined.  Taste and adjust flavoring if necessary.  Transfer the cream into an airtight container and chill for at least an hour before using.  Remove 1/2 cup of the cream to a small bowl, and return the remainder to the refrigerator.  Into the 1/2 cup of cream, stir the 2 tablespoons of natural sugar and optional lemon zest.  Set aside.
Crostada Dough (this recipe is from The Blooming Platter Cookbook, page 168):
Note: this dough is the world's easiest and best-behaved around.  I'm just sayin'…I  thought I had added too much ice water, but I just pulsed it a couple more times, lifted out the ball, and placed it on my very lightly floured surface, turning it over once to coat both sides, and it was perfect.
3/4 cup + 2 tablespoons white whole wheat flour (or unbleached all purpose flour)
pinch of sea salt
3 tablespoons non-hydrogenated coconut oil (semi-solid at room temperature; now considered part of a healthy diet!)
Scant 1/3 cup ice water
Preheat oven to 400 degrees.  Line a baking sheet with Silpat or parchment paper, or use a seasoned baking stone, and set aside.  Combine the flour, salt, and coconut oil in a food processor, and pulse a few times until the coconut oil is evenly distributed and the dough looks like coarse sand.  Begin adding water, 1 tablespoon at a time, pulsing a few times after each, just until the dough comes together.  It should be slightly moist, but not sticky, very easy to handle, and formed into somewhat of a ball.  Lift it out of the  processor, gathering up any loose bits, and divide the dough into fourths.
On a very lightly floured surface, shape each into a small disk and then roll out, using a lightly floured rolling pin, to about 5 inches in diameter.  The dough should be quite thin, but not so much so that it will tear.  Gently lift each dough circle and place on prepared baking sheet, gently reshaping if necessary.  (I like to use the tried-and-true method of rolling the circle of dough around the pin, transferring it to the baking sheet, and then unrolling in place)
Assembly:
Place  2 tablespoons of cashew cream in the center of each circle of dough, gently shaping it into a disk with a generous border of dough.  Gently fold the edges of the dough over the outer edge of the filling, pleating the dough as you go.  Be sure to leave an opening in the center in which to place the fig half.  Bake for approximately 15 minutes, but check periodically to avoid over-browning.  Remove the baking sheet from the oven and, as soon as the crostada are easy enough to handle, use a metal spatula remove them to a wire rack.  With the back of a spoon, make a depression in the filling of each tart and nestle a fig half, cut side up, inside.  Place each tart on a serving plate and drizzle withe the Rosemary Caramel Sauce.  Serve immediately and pass extra sauce.  These crostada are best served just after baking or, stored, covered, in the refrigerator and allowed to come to room temperature.
While tarts bake make sauce:
Rosemary Caramel Sauce
4 tablespoons vegan butter
1 cup natural sugar
1/2 cup soy creamer
Pinch of sea salt
1 tablespoon minced rosemary
Dash of vanilla extract (optional)
Place butter, natural sugary, soy creamer and salt in a one quart saucepan over medium heat.  Cook and stir or whisk frequently for about 5 to 7 minutes or until mixture thickens.  Remove from heat and stir in rosemary.  Allow to cool slightly and then taste to determine if you want to add the vanilla.  I prefer it without as it dulls the lovely flavor of the rosemary.  Use right away or pour into a bowl or jar and allow to cool.  Refrigerate any leftovers tightly covered.  Reheat to use.