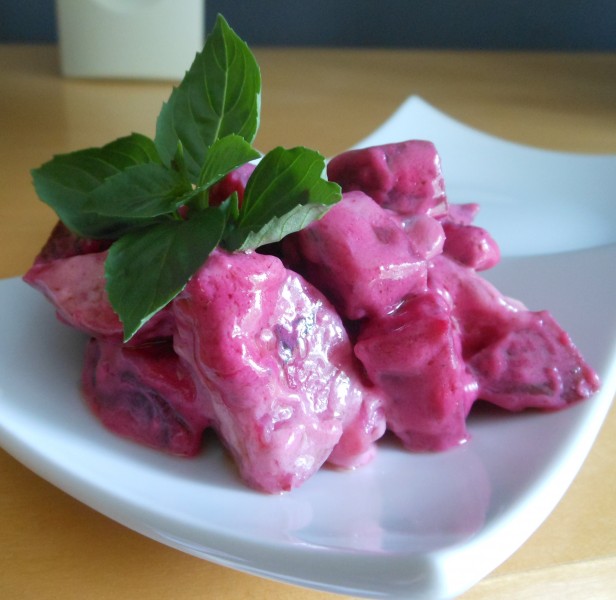 This jewel-toned salad is a real gem!
I admit that the color is a bit shocking, courtesy of some beautiful fresh beets, but it looked right at home on the bountiful buffet at this year's birthday bash for Julia Child.
For the last 4 years, 10 or so of our foodie friends gather to fete the 'ole gal on the Saturday evening closest to her birthday, making the 2013 iteration of this favorite pot-luck party on August 10.
My contributions were this salad and my new Vegan Luscious Lavender and Creme de Cacao Ice Cream.  Ooh-la-la!
Guests are asked to bring a French dish (and something tasty to eat too–hahaha), one inspired by Julia Child, or one made according to her actual recipes.  We scarcely do any advance coordination, but the meal is somehow always perfect and so beautifully presented.  The group is made up of one vegan (moi), some vegetarians, and some out-and-out carnivores.  But the food is almost entirely vegetarian/vegan.
Lovely dishes brought by our guests included:
Fresh juicy cantaloup slices (with or without prosciutto–sorry!)
Broccoli aspic (a recipe from Julia Child)
La Salad Hericot Vert (with candied walnuts, arugula and radicchio)
Ratatouille
Beet (not "beef"!) B

ourguignon over Lentils

Salmon (sorry again!), courtesy of my husband with my homemade basil Pistou (French pesto)
My Vegan Potato-beet salad, a riff on one of Julia Child's, was a top favorite among at least two of the guests, though everyone seemed to enjoy it.  Be sure to use a neutral tasting mayonnaise, or it will overpower the other flavors.  I am a fan of Nayonaise for some dishes, but feel it is too strongly vinegary and spiced for this dish.  Vegenaise is a better choice in this case.
4 cups quartered new potatoes (at our local farm market, they are called "creamers"), boiled in salted water, partially covered, until tender, about 20 minutes, and drained
7 beets, peeled and diced (about 2 1/2 cups), cooked until tender, and drained (save juice for another purpose) [I place them in a bowl, cover them with water, cover the bowl with plastic wrap, and microwave for 15 minutes, but avoid a steam burn when removing the wrap!)
1 cup haricot vert (green beans), trimmed, cut into 1-inch pieces, and simmered just until tender, about 7 minutes, then shocked in cold/iced water, and drained
Vinaigrette (recipe follows)
1/4 cup green herbs, finely chopped (I highly recommend a blend of 2 or more, e.g. basil, chives, tarragon, parsley)
2 cups neutral tasting mayo, prepared or homemade (not too tangy, sweet, etc., I like Vegenaise for this recipe)
Sea salt to taste
Freshly ground black pepper to taste
In a large non-reactive (glass or ceramic) bowl, combine all vegetables, drizzle with vinaigrette, toss well, cover, and chill for several hours.  Sprinkle with herbs, fold in mayo, and season to taste with salt and pepper.  Chill until serving time and garnish with sprigs of fresh herbs.
Vinaigrette:
1/4 cup sherry vinegar (in truth, whatever vinegar you have will be great)
1 teaspoon Dijon mustard
1/2 cup olive oil
Sea salt to taste
Freshly ground black pepper to taste
Garlic powder to taste
In a measuring cup or small bowl, whisk together vinegar and mustard.  Then whisk in olive oil in a slow stream until emulsified.  Season to taste and whisk again.  (Or just combine all ingredients in a jar with a tight-fitting lid and shake well.)