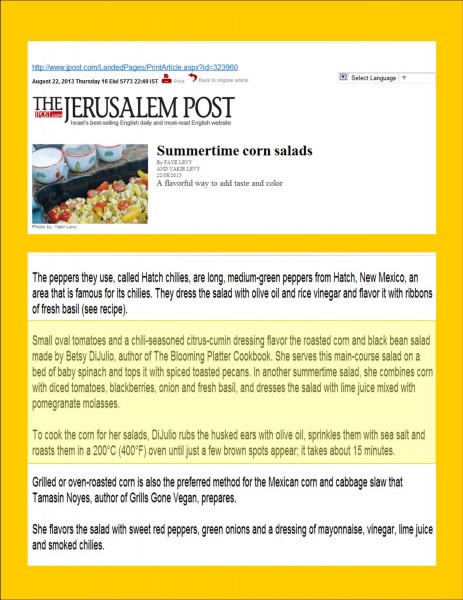 What an honor and a thrill!
Last Thursday, Faye Levy, author of the award-winning International Vegetable Cookbook, along with Yakir, featured The Blooming Platter Cookbook in their Jerusalem Post article on salads made with summer's gold: corn!
The Jerusalem Post is Israel's best-selling English daily and most read English website.  Wow!  Thank you, Faye and Yakir.
An excerpt from their article:
"Small oval tomatoes and a chili-seasoned citrus-cumin dressing flavor the roasted corn and black bean salad made by Betsy DiJulio, author of The Blooming Platter Cookbook. She serves this main-course salad on a bed of baby spinach and tops it with spiced toasted pecans. In another summertime salad, she combines corn with diced tomatoes, blackberries, onion and fresh basil, and dresses the salad with lime juice mixed with pomegranate molasses.
To cook the corn for her salads, DiJulio rubs the husked ears with olive oil, sprinkles them with sea salt and roasts them in a 200°C (400°F) oven until just a few brown spots appear; it takes about 15 minutes."