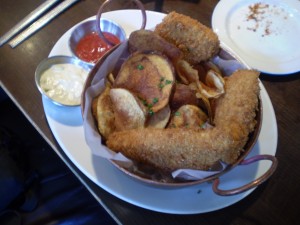 What's better than introducing two of your nearest and dearest?
Nothing, unless it's introducing them over a fabulous lunch at the hip and eco-sensitive restaurant, Founding Farmers!
In the middle of July, Allison Price, a close friend from my time in Nashville some 20+  years ago, spent a week here in VA Beach.  In the middle of the week, she and I headed to D.C. for an overnighter.
Our visit included lunch with Sonya Harmon, another close friend from some 10+ years ago when we worked together at the Contemporary Art Center of VA, followed by the Hirshhorn Museum and Sculpture Garden and the National Gallery of Art Sculpture Garden.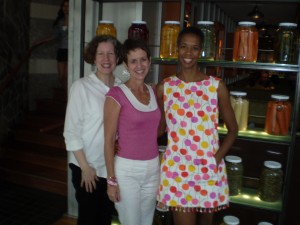 Sonya now lives in the D.C. area and generously took the afternoon off from work so that she could join Allison and I for lunch and a little museum-going.  Both of these gifted gals coincidentally now work as editors and feel they've known each other for a long time.  Our lunch destination was Sonya's spot-on recommendation.   Another coincidence:  Joe and I and another couple with whom we spent New Year's Eve in D.C. had tried to get into Founding Fathers for brunch on New Year's Day, but it was too crowded.
I am patting myself on the back for trying it again, as I enjoyed one of the most satisfying restaurant meals in recent memory.  Granted, the company was tops, which added to the experience immeasurably, but the restaurant was beautiful and comfortable in an eco-chic way, the service friendly and professional, and the food outstanding.  I splurged on the vegan "Fish" and Chips from their vegan menu and, for the record, I did NOT eat all of the chips and fries!
But I devoured the fried tofu "fish" and wasn't hungry again until 9 p.m., and then only because our hotel, Hotel Palomar (fabulous!) at 2121 P Street, NW,  was next door to a magnificent Moroccan Restaurant called Marrakesh Palace where we dined on soup, chickpeas, and homemade bread spread with this nearly indescribable "pesto" of tomatoes, onions, garlic, celery, carrots, olives and olive oil.
The next morning, Allison and I drove to Baltimore with one destination in mind: the American Visionary Museum.  It came highly recommended by Trish and Ken Pfeifer, local collectors of "outsider art" among other genres who make an annual sojourn to the museum, and we weren't disappointed.  In fact, we were thrilled.  It was such a refreshing change of pace from the rarefied atmosphere of the "Fragments of Time and Space" temporary exhibition at the Hirshhorn and their too often BS-ridden text panels.  A couple of pieces in the exhibition were noteworthy.  But too much of it fell in the "Emperor Has No Clothes" category.
Don't get me wrong: I love contemporary art, worked as a contemporary art museum education director for 11 years, and frequently incorporate it into my studio art classes.  But precisely because I find so much of it so deeply meaningful, I cannot abide pseudo-intellectual/academic art or writing about it.  Sorry folks: too often the emperor has doffed his drawers!
The American Visionary Museum proved to be a peak artistic and cultural experience, worth enduring the stop-and-go traffic during our 6-hour ride home (which should have taken about 4 1/2).   Al and I talked until we were hoarse.  In fact, that morning, our eyes and mouths had snapped open simultaneously and we didn't close them for a good 15  hours!