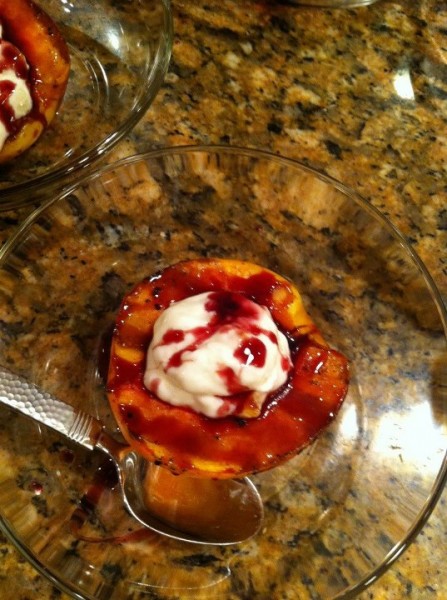 Yield:  8 servings (1/2 to 3/4 cup sauce)
In August, Joe and I joined his sisters, Terri Ann and Tina, and their families for a short vacation in Ocean City, N.J.  (Our 14 year old niece, Gabriella, who is about as far removed from "Snooki" as one can get–thankfully!–does a great imitation.)  The DiJulios spent part of the summers there throughout their lives and, now that both of their parents are deceased, have vowed to keep the tradition alive.
Family dinners are part of the tradition so, late one afternoon on the way home from a bike ride, Terri Ann and I couldn't resist the Jersey peaches at a local market.  Dinner was a grilled affair (marinated tofu for me) with my husband, Joe, in charge, so he put the peach halves on while we enjoyed dinner including Jersey corn and tomatoes plus sauteed kale from who knows where.
Before we sat down, I joined forces with Terri Ann (a good cook in her own right) and her husband's son, Curt (a partner with Bonefish Grill who knows his way around a kitchen) and created a luscious, glistening, and not-too-sweet Cabernet sauce for the peaches.  We all gave it a can-I-please-have-some-more? enthusiastic thumb's up!
I served it over a plain grilled peach for me, but added a little scoop of peach yogurt that was in the fridge for everyone else, omnivores all.  But, if you like, you can forget all the formalities and just eat it from a spoon!
Hopefully there are still a few summer peaches available in your neck of the woods, but if not, the sauce would be delicious over, say, grilled bananas, perhaps pears, vegan pound cake or ice cream (or both!), etc.
1 1 /2 cups Red wine (we used Silver Oak Alexander Valley Cabernet)
2/3 cup sugar
Bring both ingredients to a gentle boil over medium-high heat, reduce heat, and simmer gently until reduced by about one-half to two-thirds.  You should have about 1/2 to 3/4 cup of sauce.  Remove from heat.  Reduction will thicken more as it cools.
Serve over grilled peaches with or without a dollop of vanilla or peach vegan yogurt.