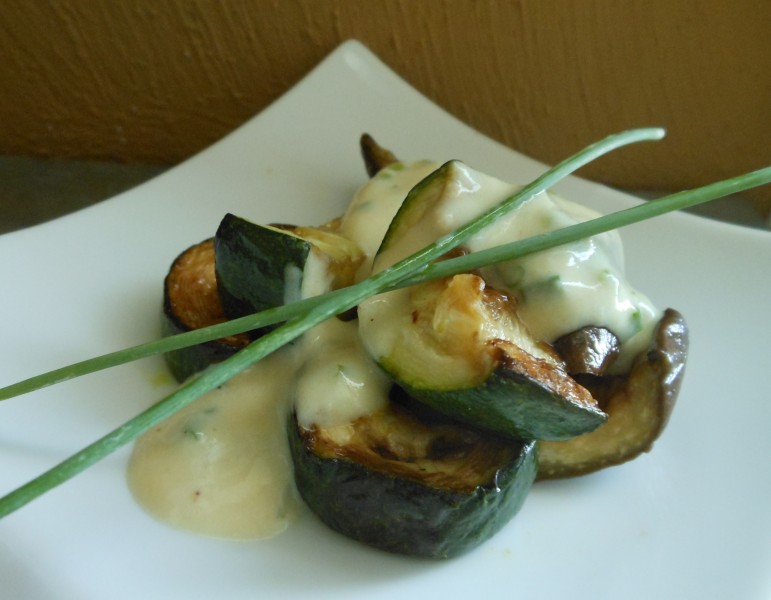 Yield: 4 servings
This dish tastes so cool and refreshing on a summer evening.   The tanginess of the sauce is the perfect counterpoint to the sweetness of the summer squash.  And it's delicious with lots of other dishes too!
The dish was inspired by the anti-vegan, Guy Fieri, of Food Network fame.  On a recent program, he roasted root vegetables and served them with a horseradish sauce.  I didn't watch the rest of the program, so I don't know the recipe for his sauce, but this one is good enough to eat with a spoon!
I served this dish to my friend, David (the choral director at our school, otherwise known a my "building husband"), with my Savory Southern Tarts with Butter Bean Filling and Sweet Tea Drizzle and a side dish of sliced heirloom tomatoes sprinkled with a little sea salt, freshly ground black pepper, and nutritional yeast, garnished with a sprig of basil.  It was the perfect light, but satisfying antecdote to the 97 degree temperatures.
2 small to medium zucchini, cut in half lengthwise and then cut crosswise into 1/2 inch pieces
2 Japanese eggplants, cut in half lengthwise and then cut crosswise into 1/2 inch pieces
2-3 tablespoons olive oil
Sea salt to taste
Freshly ground black pepper
Vegan Horseradish Sauce (recipe follows)
Preheat oven to 425 degrees.  Place all squash pieces on a rimmed baking sheet, drizzle with olive oil, sprinkle very lightly with sea salt and toss to coat.  Place pan on middle rack of  oven and roast for 20 minutes, tossing and turning after 10.  Remove pan from the oven, sprinkle squash lightly with black pepper to taste, toss lightly, and spoon onto a serving platter or individual plates.  Drizzle with sauce (9and serve warm or at room temperature.  Alternatively, sauce may be passed in a small bowl.
Vegan Horseradish Sauce (You will have some leftover and you'll be so glad!)
1/2 cup vegan mayonnaise, purchased or home made (I tend to prepare Vegenaise over Nayonaise if using purchased)
1-2 tablespoons horseradish, or to taste  (not "prepared horseradish," as it is not vegan)
1 teaspoon Dijon or yellow mustard
1 large clove garlic, minced
2-3 tablespoons minced fresh chives
Sea salt and white pepper to taste
Optional: 1/2 teaspoon fresh lemon juice
In a medium bowl, whisk together all ingredients.  Adjust seasoning if necessary and whisk again.  Store, covered, in the refrigerator, until serving time.