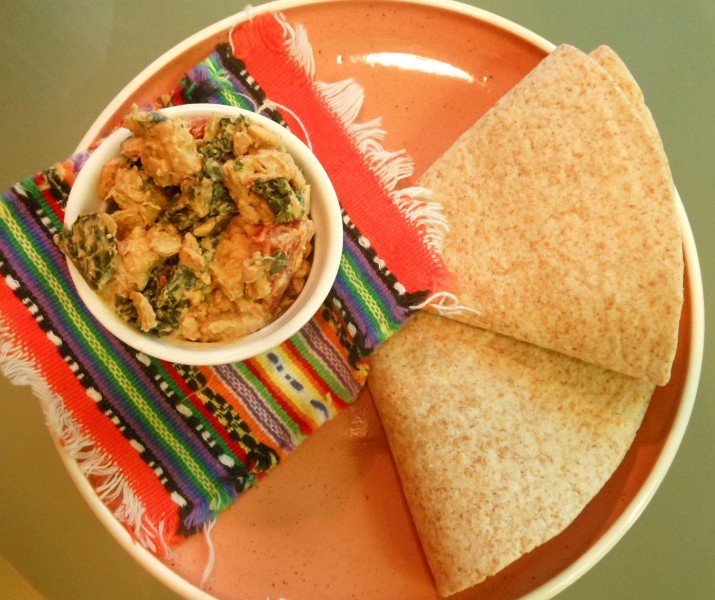 Yield:  2 healthy servings (easily doubles)
Sundays always have me thinking about school lunches for the work week ahead.  Wait.  Who am I kidding?  Sundays are hardly the only day I am thinking about nutritious and delicious school lunches that will fuel me throughout some long (but gratifying) days at the high school where I teach art, but not over-fill me.  Our new breathless schedule this year leaves no time for being sluggish!
Last year, we had alot (alot!) more planning time, so I was able to walk down to the cafeteria and purchase lunch on a daily basis: hummus, raw vegetables, cooked greens and baked sweet potatoes being some of my favorites.  But this year, due to district cost saving measures (larger and more classes taught by fewer teachers = less dollars), I had to figure out a different system because I literally don't have time.  (The common refrain from teachers is that we never see each other anymore.)  So far, I have been packing my little "bento box" storage containers with a half a bagel spread with 2 tablespoons of peanut butter for my morning snack, some kind of vitamin-packed leftover for mid-day–sometimes two kinds–and an apple, and it is working out just fine.  Oh, and I start my day (at  5:30a.m.) with a glass of diet cranberry juice at home and a glass of unsweetened soymilk in a travel cup.  I also keep a carton in the fridge at school.
One week's leftoves included this Tempeh and Kale Filling which was "tempting" hot in a taco and a quesadilla.  But I can also attest to it being quite scrumptious cold right out of the carton!  So I hope you might find uses for it in your busy week!
2 tablespoons olive oil
1 small or half of a large onion, diced
1 package tempeh (any flavor)
1 teaspoon ground cumin
1/2 teaspoon chili powder (Chipotle for a spicier flavor; Ancho for a milder one)
1/2 teaspoon smoked paprika
Sea salt and pepper to taste
8 ounces kale, rinsed *thick stems removed, and torn into bite size pieces (I add it to the skillet slightly damp to provide more moisture to the mixture)
2 cloves garlic, minced
1 tablespoon light miso
1 tablespoon Liquid Aminos
2 tablespoons nutritional yeast
1/4 cup vegan sour cream
4 ounces Roma tomatoes, diced
Heat 1 tablespoon olive oil in a cast iron skillet over medium-high.  Add onion and saute, stirring frequently, for 2 to 3 minutes.  Crumble tempeh into the skillet, add remaining tablespoon of olive oil, cumin, chili powder, smoked paprika, sea salt, and pepper, and saute, stirring almost continually, until tempeh is nicely browned in places.  Add kale and garlic and saute, stirring, until kale is slightly wilted, but still bright green.  In a small cup or bowl, whisk together light miso, Liquid Aminos, nutritional yeast, and vegan sour cream, and stir into tempeh mixture until completely incorporated.  Stir in tomato, remove from heat and use immediately as a filling in warm, soft taco shells or in a pan-griddled quesadilla.  Refrigerate any leftovers in an airtight container.