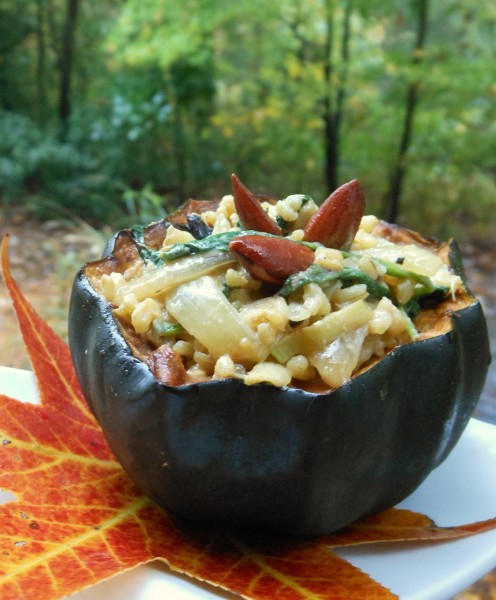 Yield: 4 servings
[Funny note about this photo:  this post published before I was ready–not sure what key I inadvertently hit–so, since I couldn't figure out how to revert it to a "draft," I had to photograph the dish in the midst of Hurricane Sandy as I never post without a photo!  It's pretty overcast outside, rainy, and chilly–too dark to photograph inside where I normally do–so still in my PJs, I dashed outside into the drizzle and wind to snag a pretty fall leaf for color, and then stood in the blustery doorway for some daylight, holding the squash aloft, and hoping the photography gods were on my side.   I guess it turned out respectably, no?]
Note: though filling acorn squash with this casserole makes for a beautiful presentation and a fun dining experience, the casserole is plenty tasty enough to simply serve in a gratin dish or bowl. 
I seem to be on a roll with humble beginnings lately.  This tasty and comforting dish–simple but pretty enough for company–was inspired by acorn squash that I had cooked a few days ago, but never eaten.  I had been planning to stuff them, but couldn't decide with what.  But then, my husband and I went to dinner at Yard House in VA Beach for date night last Wednesday.  Neither of us are big starch eaters, so when he left his rice virtually uneaten on his plate, I asked the server to wrap it up along with all of the left-over greens from my very dull salad.  (I had eaten the cucumber and shredded carrots off of it, but that was about all–thank goodness for the very tasty hummus appetizer!)
So, absolutely starving yesterday after my morning yoga class, I remembered all of these ingredients, along with the coconut milk in the fridge leftover from my Spicy Vegan "Beef," Zucchini, and Pumpkin Chili).  And, in just a few minutes, this mouth-watering dish was born.  It doesn't have a lot of protein, yet it is filling.  So, I would probably enjoy it with a glass of soymilk and call it a meal.
2 acorn squash (about 1 pound each), cut in half horizontally, seeds and membrane removed with a spoon
1 tablespoon olive oil + additional for oiling baking dish and basting squash
1 medium onion, cut into 1/4-inch dice
Sea salt
4 large cloves of garlic, minced
4 cups mixed greens, large leaves torn if necessary (e.g. baby spinach, arugula, etc.)
Approximately 1/2 cup coconut milk (or other vegan creamer with a low sugar content)
Freshly ground black pepper
2 cups cooked brown rice
Garnish: approximately 12 smoked almonds
Preheat oven to 400 degrees and lightly oil a baking sheet.  Place squash halves, cut side up, in a roasting pan.  Brush lightly with olive oil and sprinkle very lightly with sea salt.  Roast in the center of the oven for 45 to 60 minutes or until tender, yet still firm enough to hold its shape.
After about 30 minutes of roasting, begin casserole.  In a large skillet (cast iron is always be preference), heat tablespoon of olive oil until shimmering.  Add onion and a pinch of salt, and saute, stirring frequently, about 3 minutes or until onion is softened.  Add garlic and saute, stirring, another 30 seconds to 1 minute.  Add greens and saute, stirring, until wilted, but still bright green, about 2  minutes or so.  Stir  in coconut milk, black pepper, and cooked rice.  Check for salt and stir in more if necessary.  Continue cooking, lowering heat if necessary, until flavors marry and mixture is heated through.  Add additional coconut milk if necessary to reach desired consistency, which should be quite thick, like an oven-baked casserole.  When squash has finished cooking, fill each half with one-fourth of the casserole.  Garnish each with 3 smoked almonds and serve immediately.