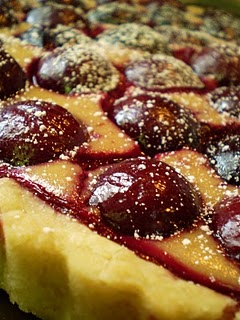 Yield: 8 servings
My go-to press in savory quiche and tart crust gets the sweet treatment with this elegantly rustic dessert. I simply added a little natural sugar to the dough and filled the partially-baked shell with a silky-smooth almond filling crowned with perfect little domes of fresh plums and a feathery dusting of powdered sugar. It's the perfect way to end a summer meal or, for that matter, begin a summer day with a cup of tea. (Thanks, Diane and Mike, once again, for the gift of these plums from your tree.)
Vegan Press-in Sweet Pie Crust:
1 1/2 cups unbleached all-purpose or whole wheat flour (I used all-purpose in the photograph, as I didn't have enough whole wheat, but you can combine the two to get the benefits of both)
1 teaspoon salt
1/4 cup natural sugar
1/2 cup canola oil
2 tablespoons unsweetened or plain soymilk, lite or regular
Preheat oven to 400 degrees. Mix the dry ingredients in a medium bowl. Pour the oil and milk over the dry ingredient mixture and work around with a fork or fingers until all of the liquid is absorbed. Transfer to an 8-inch tart shell with a removable bottom and press the crust firmly into the bottom and sides of the pie plate. The bottom and sides of a glass accomplish this task nicely. Bake for 10-12 minutes, remove from oven, and reduce oven temperature to 325 degrees. Let crust cool for 3 minutes, and then fill evenly with almond filling. Arrange plums, cut side down, in rings on top of filling, placing close together. Bake for 25-30 minutes or until almond filling is set. Let cool to almost room temperature, dust with powdered sugar and serve. Refrigerate leftovers, covered. Note: this crust, made with whole wheat flour, makes beautiful, sturdy 4-inch tart crusts that hold up even when removed from the tart pans and slid off the removable bottoms. Like the larger crust, I bake them 10-12 minutes before filling.
Pie Crust Source: http://www.steptalk.org/
Filling:
1-12 ounce box firm Silken tofu
1-8 ounce can almond paste, broken up into small pieces with fingers
1/2 cup natural sugar
1 teaspoon vanilla
1/2 teaspoon coarse sea or kosher salt
Place all ingredients in bowl of a food processor fitted with a metal blade and process until very smooth, scraping downsides of bowl as necessary.
Topping:
approximately 20 small fresh plums, halved and pitted
Optional Garnish:
a tiny bit of powdered sugar sifted over the top