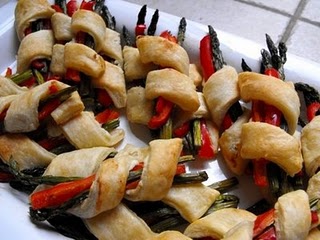 My friend Anne Frerichs, quite an inspired cook in her own right, created this scrumptious version of my Vegan Green Bean Bundles. Aren't the colors beautiful? She took them to a summer barbecue, but the colors would make them a festive addition to the winter holiday table (provided you can find good and affordable asparagus in December).
She followed my recipe at:
/search?q=Vegan+Green+Bean+Bundles
with these adaptations (paraphrased):
"All I did was roast the asparagus in extra virgin olive oil, salt and pepper, and a good balsamic vinegar until bright green and slightly underdone. Then I wrapped them up with a strip of red bell pepper in the puff pastry and baked them like you said. I did sort of brush the tips with some extra balsamic vinegar just to give that first bite a little "kick,"but I don't think it was necessary. "
Thanks, Anne. This is a keeper for sure!