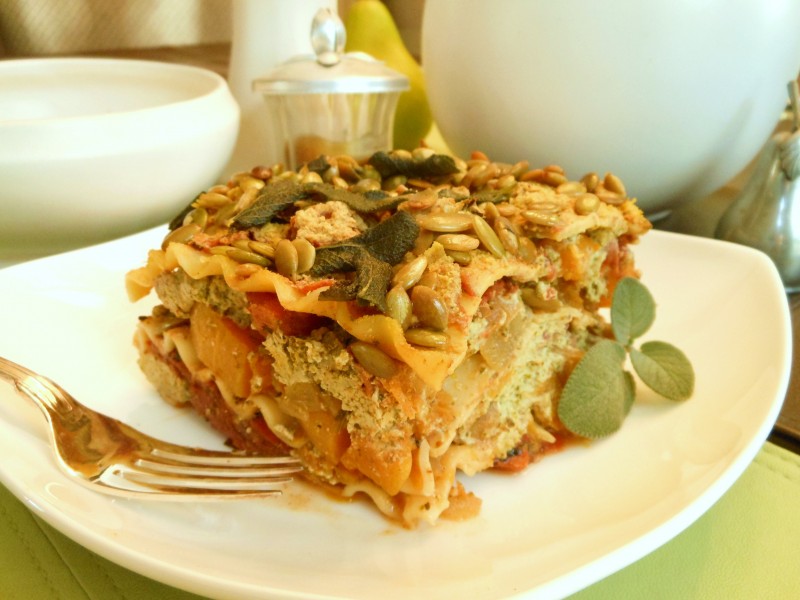 Yield: 4 servings
Just in time for Thanksgiving, I finally got serious about a challenge long before me: a perfect butternut squash lasagna!
Every time I think about making a butternut squash lasagna–and there have been many times over the years!–I never end up doing it because I can't make up my mind about whether or not to include mushrooms and/or spinach, whether to go with a bechamel or a tofu "ricotta" layer, whether or not to give in and incorporate some purchased vegan cheese (of which I'm not a big fan), in what order the layers should go, and on and on.  All of the possibilities just short-out my circuits.
But, recently, I had an already peeled and ready-to-cook butternut squash in the fridge from our farmer's market, some lasagna noodles, and a fresh batch of my Smokey Kale Pesto.  The kale pesto made it easy to decide how to incorporate the greens–into a tofu "ricotta" layer–which also answered the bechamel vs. "ricotta" question.  And since I didn't have any mushrooms on hand, the rest just sort of fell into place.
This beautiful golden lasagna stacks up high but holds together beautifully to cut.  Acidic fire-roasted tomatoes prevent it from being overly sweet.  And the creamy ricotta layer receives a major flavor boost and a hint of color from the pesto.  Since I make this bright green pesto with smoked almonds, I added a little smoked paprika to the marinara to marry the flavors.  Because of these smokey notes, fire-roasted tomatoes are perfect.
Ultimately, I opted for no purchased vegan cheese, so I just sprinkled my beloved nutritional yeast over the marinara as the last layers.  But then, not wanting the top to seem dry and wanting one final burst of fall flavors, I sauteed some fresh sage leaves and roasted pepitas in olive oil, drizzling the leaves, nuts, and sage-infused olive oil over the top of the lasagna before serving.
Wow!  The results were worth all the years of waiting!
Though it's a little different, this dish would be a beautiful and welcome addition to even the most traditional of holiday feasts.  Happy Thanksgiving, all!
Note: To make this lasagna ultra-easy to put together, I like to prepare the various parts a day in advance.  The pesto can even be made a couple of days in advance, as the lemon juice will keep it bright green.
For my recipe, head over to One Green Planet with one easy click HERE!  It seems to be very popular among OGP readers and I hope all of you, as well!