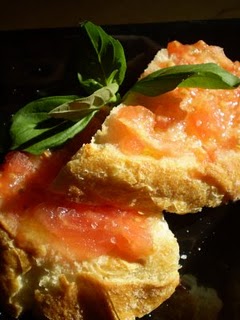 Catalan Tomato Bread
Yield: 4 servings
My friend Cindy told me to be on the lookout for this bread when my husband and I went to Barcelona a few years back. We had no trouble finding each other and beginning a torrid Spanish affair. No recipe could be simpler nor truer to the essence of its main ingredients.
You may either prepare this recipe just before serving or allow each diner to prepare his or her own.
4 slices grilled or toasted crusty bread (Ciabatta is nice)
4 garlic cloves, sliced in half
2 large Roma tomatoes, sliced in half
Extra virgin olive oil (choose a shimmering gold or green variety)
Kosher or sea salt
Rub each slice of bread liberally with cut side of garlic clove. Then rub with cut side of tomato, squeezing juice and pulp onto bread. Drizzle with olive oil and sprinkle with salt.