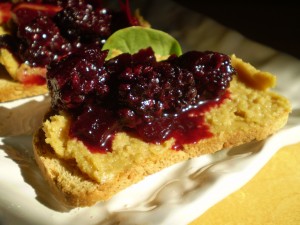 Pulpy, glistening blackberries…savory bursts of clean, complex flavors…little taste explosions in every mouthful.  This chutney is to die for!
In my previous post, I said that my Smoky Vegan "Ricotta" and Green Grape-Spring Onion Salsa became an instant favorite upon creation.
But wait!  This one, made the same day, but  not tasted on an actual crostini until last night, rivals it–I wouldn't want to have to pick a #1!
The truth is that I wasn't sure how I was even gong to use the chutney or, for that matter, that I was going to make a chutney.  But I had come home from Stoney's Farmer's Market on the weekend with some fresh Pungo blackberries and, not wanting them to spoil as berries tend to do so quickly, I decided to go ahead and use them.
I wasn't in a dessert mood, and I didn't want to use them raw, as they were on the tart side.  So, when I thought of a chutney, I was excited by the possibilities, but gave myself this kitchen challenge:  to see how complex (and delicious!) I could make the flavor without muddying it or masking the taste of the blackberries.
The response to my challenge is this very special chutney.  You won't even believe how amazing it is by itself or on a crostini with my Vegan Cheddar "Cheese" Spread.  In fact, dinner last night was a pairing of crostini: these and the ones mentioned above (I'd eaten lots of leafy greens for lunch, so I allowed myself).  It was a light meal of beautiful contrasts in colors, flavors and textures.  Perfect with a glass of 2009 Green Fin organic white table wine (a new top choice) after a very hot dog walk and a Pilates class.  Cheers!
1 tablespoon olive oil
1 medium yellow onion, cut into 1/4-inch dice
2 large cloves garlic, thinly sliced
1/3 cup apple cider vinegar
1/3 cup agave nectar
1 tablespoon red wine (anything drinkable will do and will only change the flavor slightly)
1 teaspoon coriander seeds
1/2 teaspoon ground allspice
1/2 teaspoon anise seeds
1/2 teaspoon fennel seeds
1/4 teaspoon ground cardamom
1/4 teaspoon ground chipotle chili powder
1/4 teaspoon ground ginger
1/4 teaspoon smoked paprika
1/4 teaspoon turmeric
1 pint fresh blackberries
leaves only from a 6-inch piece fresh rosemary
up to 1/3 cup natural sugar (adjust depending on tartness of berries)
sea salt and freshly ground pepper to taste
Accompaniments: Vegan Cheddar "Cheese" Spread and crackers or toasts, including thinly sliced grilled or toasted bread rounds
In a large cast iron skillet over medium-high, bring olive oil to shimmering.  Add onion and saute a couple of minutes, stirring frequently.  Add garlic and continue sauteeing and stirring for another couple of minutes or until onion and garlic are soft and onion is starting to develop a slight amount of color.
Stir in remaining ingredients and simmer, stirring occasionally, for approximately 20 minutes or until flavors are beautifully combined and the mixture has become pulpy.  It will thicken as it cools.  Serve chilled or at room temperature with my Vegan Cheddar "Cheese" Spread or your favorite vegan "cheese" on crackers or toasts.   It would also be delicious on something like grilled or broiled tempeh "steaks."