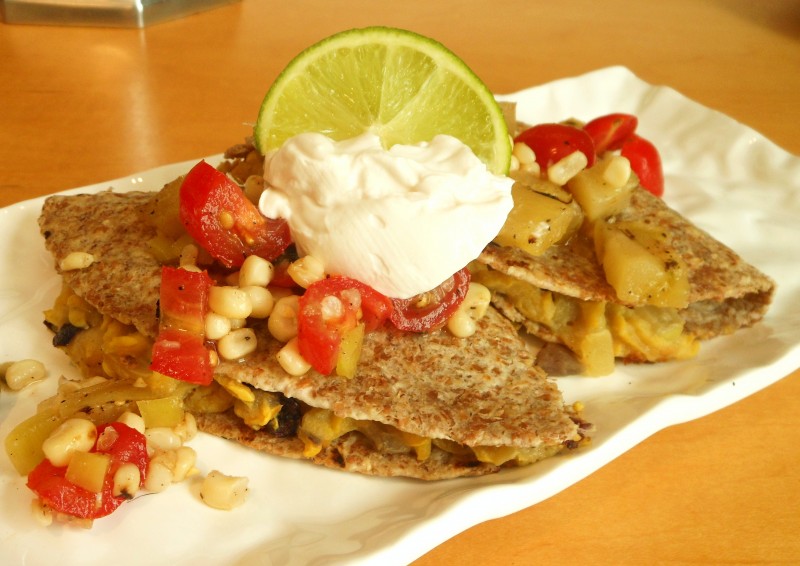 Yield: 4 Quesadillas
I am still visiting my family in Mississippi, and was reminded that this is another recipe that I hadn't shared before I left Virginia.  Reminded because it calls to mind one of my father's signature sayings.
I have never been a particular fan of yellow squash.  It's not that I don't care for it; I just don't "wake up screaming for it," as my Papa would say.  But it is beautiful in the farmer's markets right now–or perhaps in your own back yard!–and I wanted to take advantage of it.
I bought one, but I wasn't sure what I wanted to do with it until I remembered my cheesy Zucchini, Onion and Yellow Squash Gratin dish and the Grilled Green Tomato and Charred Corn Salsa I had already made.  So, I decided to combine the two notions and take my yellow squash in both a southwestern and a cheesy direction (the latter inspired by, but different from, the Gratin).  Boy, am I glad I did, and I hope you will be too!
You won't believe how creamy, cheesy, tasty and rich this yellow squash filling is!  Tucked into a toasty tortilla and topped with my Grilled Green Tomato and Charred Corn Salsa, it is the epitome of summer feasting, southwestern style!
1 tablespoon olive oil
1/2 cup diced yellow onion
Sea salt
1/2 teaspoon garlic powder
2-8 inch yellow squash, trimmed and grated (I use the grater blade of my food processor for this task; it makes the most perfect firm strands)
1/4 cup nutritional yeast
1/4 cup flour (I used white whole wheat because that is what I keep on hand)
1/2 cup unsweetened soymilk
2 tablespoons light miso (any vegan kind will do, though the darker the flavor, the deeper the flavor)
Freshly cracked black pepper
4-8 inch whole wheat or wheat tortillas (I used Ezekial sprouted grain tortillas, which I loved, but they had so much flavor on their own that I felt they competed just a little)
Topping: Grilled Green Tomato and Charred Corn Salsa (recipe follows)
Garnish: vegan sour cream and lime slices or wedges
Heat oil in a large cast iron skillet over medium-high.  Add onion and a pinch of sea salt and saute, stirring frequently, about 3 minutes until softened.  Stir in garlic powder and grated squash and continue cooking, stirring frequently, for another 2 to 3 minutes or until squash is crisp-tender.  Stir in nutritional yeast until well combined, followed by flour.  Add soymilk and miso, and cook, stirring frequently, until miso is incorporated, and the mixture is thickened, heated through, and the flour no longer has a raw taste, about 3 minutes.  Season to taste with sea salt and freshly cracked black pepper.  Remove filling to a bowl, wipe out skillet, and coat generously with non-stick cookng sprary.  Spread half of two tortillas with squash filling, fold tortillas over the filling and toast in skillet for 2 to 3 minutes on each side, or until golden brown.  Remove quesadillas to serving plates and repeat with remaining filling and tortillas.  Serve topped with salsa, vegan sour cream, and lime slices or wedges.
Grilled Green Tomato and Charred Corn Salsa
Yield: 2 cups (easily doubles)
Normally, I would add diced onion and some chopped cilantro to a salsa like this, but it didn't seem to need it; in fact, I was afraid both the onion and cilantro would overpower the sweet char of the grilled green tomatoes and corn.
1 large green tomato, cut into 1/3-inch slices
2 ears fresh corn, stripped, and broken in half
Sea salt
12 cherry tomatoes (cut smaller if your tomatoes are larger than cherries)
1 banana pepper (mild) or jalapeno (half or whole, depending on your heat tolerance), stemmed, seeded, and very finely chopped (consider wearing gloves to seed jalapeno and wash hands)
1 large clove garlic, minced
1 to 2 teaspoons fresh lime juice
Sea salt and freshly ground pepper to taste
Oil a grill pan and heat over medium-high.  Lightly salt tomato slices and lay into pan, grilling for 2 to 3 minutes on each side or until nice grill marks develop and tomato slices become crisp-tender.  Remove to a cutting board and allow to cool while you grill corn.  Lightly salt corn and grill about 3 minutes on 4 sides or until lightly charred all over.  Cool.  Dice tomatoes and place in a medium non-reactive bowl.  *Cut corn off cob and add to tomato along with remaining ingredients.  Toss to combine and chill, covered.  Delicious with chips–of course!–or as a topping over quesadillas, beans, a thick soup, etc.
*Note: the easiest way I have found to cut corn off the cob is to place a short sturdy glass or small bowl upside down in a larger bowl.  Working with one half-cob at a time, stand it up on its cut end and run your knife vertically down the cob, allowing the kernels to be captured in the bowl.  Voila!  Or should I say "Ole!"