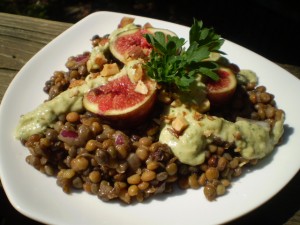 Yield: 4 servings
With a bag of fresh figs recently plucked from a friend's tree, I have been in a frenzy of fig-inspired recipe creation before these fleshy and succulent wonders of summer are all gone.  In our climate, they are still available, as I saw some at the farm market just today.  Plus, my friend's tree was laded with green ones, not yet ripe for the pickin'.
This is one of a couple of recipes that is inspired by one of my all time favorite appetizers, which I will also post: a fresh fig stuffed with vegan cheese and a smoked almond.  It simply doesn't get any better.
For some flavorful protein and color contrast, I decided to layer the other ingredients over a bed of simply prepared lentils.  I like to buy them already steamed from Trader Joe's.  They are inexpensive and beautifully textured.  You can find them in the produce section in one-pound packages.
Once fig season has faded, enjoy this salad topped with something like cooked or raw apple wedges or even cooked sweet potato cubes.  Both would be delcious with the blue "cheese" dressing and smoked almonds.
1 pound of steamed or otherwise cooked lentils, drained if necessary (the should be firm, not soft or mushy)
1 medium red onion, cut into 1/4-inch dice
2 tablespoons balsamic vinegar
sea salt and freshly ground pepper to taste
6 to 8 fresh figs, stemmed and sliced in half vertically
1/4 cup or more vegan Creamy Blue "Cheez" Dressing (recipe follows)
1/4 cup coarsely chopped smoked almonds
Optional garnish: fresh parsley sprigs
In a medium bowl, toss together the lentils with the onion, balsamic vinegar, and salt and pepper to taste.  Divide the mixture evenly among 4 salad plates.  Top each with 3 or 4 fig halves, flesh side up.  Then drizzle each with a tablespoon or so of the dressing and sprinkle with a tablespoon of the almonds.  Serve immediately.  Salads may be prepared in advance without the dressing and almonds, covered, and stored in the refrigerator.  Dress and garnish them just before serving.  The dressing is easiest to drizzle if allowed to come to room temperature or heated for a few seconds in the microwave.
Creamy Blue "Cheez" Dressing
½ cup sesame tahini
½ cup extra virgin olive oil
1 ¼ teaspoons salt
1 teaspoon crushed garlic or garlic powder
1 teaspoon light miso
¼ teaspoon pepper (I use white to prevent black flecks)
¼ cup lemon juice
¼ cup white vinegar
1 tablespoon dried parsley flakes or 3 tablespoons fresh minced parsley
In a medium bowl or food processor, beat together first 6 ingredients until creamy and smooth. Vigorously beat in lemon juice and vinegar until well combined. Stir in parsley or add a very small rinsed and drained bunch to the food processor and pulse a few times to mince and distribute. Keeps 10-14 days in an airtight container in the refrigerator. Stir well before serving.
Dressing Source: slightly adapted from The Ultimate Uncheese Cookbook by Jo Stepaniak (the only changes I made were to omit all of the water, as it made the dressing far too thin, and add more parsley).