This is omnivorous husband-approved comfort food, no question about it!  But it won't weigh you down and it is  infused with lots of vitamins, not to mention flavor.
You can use any kind of pasta you choose, but I love the shallow "bowl-shape" of the orecchiette because it holds more of the creamy sauce.
Roast the squash in advance so that it's ready to roll when you're ready to roll out dinner.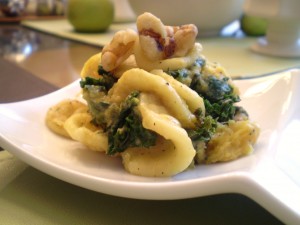 Yield: 4 servings
8 ounces orecchiette (or other favorite pasta)
1 tablespoon olive oil
4 cups firmly packed 2-inch pieces of kale, thick stems removed
2 medium cloves garlic
1 cup plain soy creamer
1/4 to 1/2 cup nutritional yeast (depending on how cheesy and thick you want the sauce)
Sea salt and freshly ground black pepper to taste
About 4 teaspoons rough chopped walnuts or toasted walnuts
2 acorn squash, cut into approximately 1 x 2-inch chunks and roasted (I cut the squash in half, remove seeds and pulp, cut it into chunks, drizzle with olive oil, sprinkle with sea salt, and roast for 20 minutes at 450 degrees, stirring after 10 minutes.  I find it easiest to peel the squash after it has cooled enough to handle, but you can peel it before roasting if you prefer.)
Bring a large pot of generously salted water to boil.  Add pasta and cook just until al dente.  Meanwhile, make sauce.  In a large cast iron skillet over medium-high, heat olive oil to shimmering.  Add kale and cook, stirring almost constantly, for approximately 3 minutes or until almost tender, but still bright green.  Add garlic and saute for another minute, stirring constantly.  Reduce heat if necessary to prevent garlic from scorching.  Add soy creamer, nutritional yeast, sea salt, and freshly ground pepper, and stir to combine.  Fold in roasted acorn squash and heat through, stirring frequently.  When pasta is cooked, drain, and fold it into the sauce.  Adjust seasoning if necessary and serve immediately garnished with a few chopped walnuts.