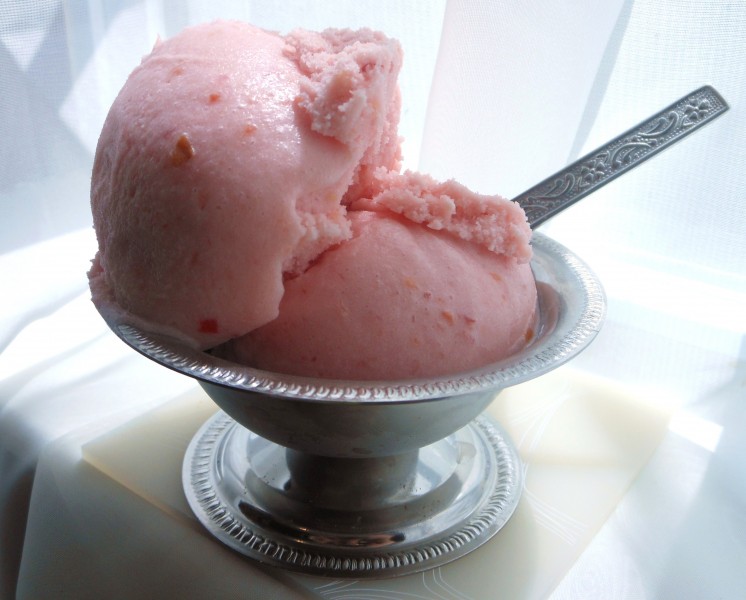 Yield: 1 1/2 quarts
Down here visiting my family in muggy Mississippi, all thoughts turn to ice cream.  So I remembered that this was another new recipe that I hadn't posted before I left home.  If you come home from your farm market trip with fresh peaches, you are just two ingredients away from having all you need to make this beautiful treat!
This tart, refreshing ice cream is bridal peachy-pink and just as fresh and appealing.  Made with just three simple ingredients, it is most delicious when peaches are at their peak of juicy and flavorful freshness.
2 large peaches, pitted, quartered, and cut into chunks (I leave the skin on for gorgeous color and nutrition)
1-12 ounce can frozen pink lemonade (I am not averse to the occasional ingestion of high fructose corn syrup but, if you are, look for an organic brand which will be HFC-free.)
2 cups vegan soy creamer (I used French vanilla, but if you use plain, add 1/2 teaspoon vanilla extract)
In the bowl of a food processor, process peaches and frozen lemonade until smooth with no chunks of peach remaining.  Transfer to a medium bowl and whisk in soy creamer.  (If you try to blend all three ingredients together in most food processors, your cup will runneth over!)  Cover and refrigerate at least 3 hours or until very cold.  Freeze in an electric ice cream maker according to manufacturer's directions.  Because this custard isn't terribly thick, I freeze it about 15 minutes longer than recommended, or about 45 minutes, and it is still the consistency of a thick milk shake.  Though I could easily down the whole recipe like that, I resist and freeze it, covered, for several hours or overnight to stiffen-up to a scoopable consistency.  Even frozen, it remains on the softer side, which I love.  And, as you can tell from the photo, it still scoops beautifully.