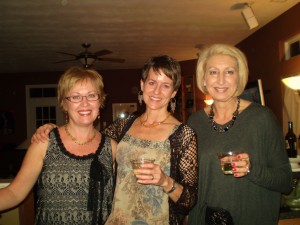 Move over Guy Fieri!  Your "Triple D" has nothing on our "Quadruple C"!
Plus, no animals are harmed in the making of "Christmas, Chanukah, Curry & Cakes"–unlike "Diners, Drive-Ins, & Dives"!–my 11th annual all-girls vegan holiday party.
The Brief History
Every year, on the second Wednesday in December for the last decade, 20 of my "tribe" have gathered at Joe's and my home for a curry buffet dinner and special cakes, cookies or other confections.  The party is beloved of all and it is a very special treat for me to feed my nearest and dearest a beautiful and nutritious veg meal (well, the desserts are beautiful if not terribly nutritious), and gift them with ornaments, picture frames or, one year, miniature cookbooks.
The Swap
But, this year, for some reason, I wanted to change it up a bit.  I especially wanted to host a "Swap."   You know about swaps, yes?  All of the guests bring nice, but unwanted or unneeded household and garden goods, as well as clothing and accessories.  Then, using one of several methods for redistributing the goods, everyone goes home with items more to their liking.  It is especially perfect this time of year because guests can "shop" for free holiday gifts, which is very welcome in this economy.
The procedure I decided on was to have each guest write her name on a clothespin, one for each item that she brought.  The clothespins then become currency for "buying" other items.  Realizing on my way home from school the day of the party that there would be no way to tell my own possessions that I want to keep(!) from those that were up for grabs, I decided to have each guest also fill out an index card to place with each item.  A draped table in our foyer topped with a pretty vase of clothespins, a bowl of index cards (that matched our decor!), and a couple of containers that held a spectrum of colored Sharpie markers provided the perfect staging area.  I simply explained the process to the first guests to arrive and they to the next and so on.  It was so fun to watch our living room and den be transformed into an eclectic upscale boutique.
What happens if more than one person "pins" the same item?  As one friend said, "Girl Fight!"  What actually happens is really fun.  As a group, we moved through each room, stopping when we came upon items with two or  more pins.  The pins went into a festive wine bag, I shook them up amidst good-natured chanting and ribbing, and asked someone to draw.  Whoever's name is drawn is the "winner" of the item, but the other person(s) gets to select something else.
Adding a 5th C: Charity
After the swap, there were unclaimed items in which people had interest, so they asked if they could make a donation to charity through me and "purchase" the items.  I thought that was a great idea, so they discreetly tucked bills into the clothespin vase and chose the merchandise they wanted.  When everyone was gone I discovered that we had collected $50!  Wanting, in the spirit of CCC & C, to donate to a women's or to a food-related charity, I discovered A Well-Fed World whose tagline is "Feeding People/Saving Animals" because their mission is certainly in the spirit of CCC & C.  Just click on the link to read all about their important work and, perhaps, make a donation.  With just a few items remaining, I made short order of  boxing and bagging them up, dropping them off Saturday morning at a nearby thrift store that benefits our Children's Hospital of the King's Daughters.
The Food
Since I wanted everyone to freely browse, I decided that "finger food" and small plates were in order.  I have lots of favorite appetizers from my Blooming Platter Cookbook, so I thumbed through the fall and winter sections choosing hot, room temperature and cold dishes and crafting the following easy menu.  It was a huge hit with all of the guests.
The Tangy Indian White Peas were the only dish not from the cookbook, but I had to make them because, though I had run into an Indian market just for puri to serve with the Saag Dip, the nicest fellow shopper–an Indian–shared a recipe with me, leading me around the store to show me what I needed.  The "recipe" is simply the white beans cooked until soft in salted water seasoned with a little turmeric until all of the water has evaporated.  Into that mixture is stirred prepared mint chutney and, my addition, a little cilantro and mango chutneys for good measure.  Delish and ultra easy!
Christmas, Chanukah, Curry & Cakes 2011
~Menu~
*Bloomin' Broccoli Dip &
*Curried Cous-cous in Miniature Puff Pastry Cups
*Indian Saag Dip with Rice Crackers
Tangy Indian White Peas in Mini Puri
*Lavender Shortbread Cookies
Prosecco**
*From The Blooming Platter Cookbook:  A Harvest of Seasonal Vegan Recipes.
**For the uninitiated, Prosecco is Italian white sparkling wine that complements everything, especially vegan food.  But my husband loves it, too, and he is "a vegan and more."  I first learned of it from Italian celebrity chef, Giada de Laurentiis.  It is ridiculously affordable, even in restaurants, at about $30/bottle.  But, at Trader Joe's, a very respectable bottle can be had for about 5 bucks!  For a New Year's post, I plan to share my very special way of serving it.  Stay tuned!
Since CCC & C is all about sharing, it is my pleasure to share one of the recipes that I served from the cookbook with you here.  For the others, I hope you'll consider snagging a copy of the book for yourself and your friends!
Blooming Broccoli Dip
Yield: 4 cups
I chose this dip because it's a crowd pleaser and because our farm market has been harvesting lovely heads of broccoli this fall and winter.  Note: I tripled the recipe to serve 20 and I'm glad I did because there was none left over!
3 tablespoons olive oil
2 tablespoons apple cider vinegar
1 tablespoons maple syrup
1/4 teaspoon curry powder (or to taste)
Sea salt and freshly ground black pepper
3 cups small broccoli florets
1/2 cup chopped red or orange bell pepper (or a combination)
2/3 cup golden raisins
2 scallions, thinly sliced
Vegenaise or other vegan mayo (start with 3 tablespoons and add more as desired)
3 ounces smoked almonds, finely chopped
In a large bowl, combine the olive oil, vinegar, maple syrup, curry powder, and salt and pepper to taste. Whisk well to combine. Add the broccoli, bell peppers, raisins, and scallions and toss to mix well. Fold in the mayo, a few tablespoons at a time, until the desired consistency is reached. Reserve any leftover mayo. Refrigerate the broccoli mixture, covered, several hours or overnight. Fold in the almonds just before serving. Taste and adjust seasoning if necessary. Serve chilled.